Christmas chicken
with Cranberries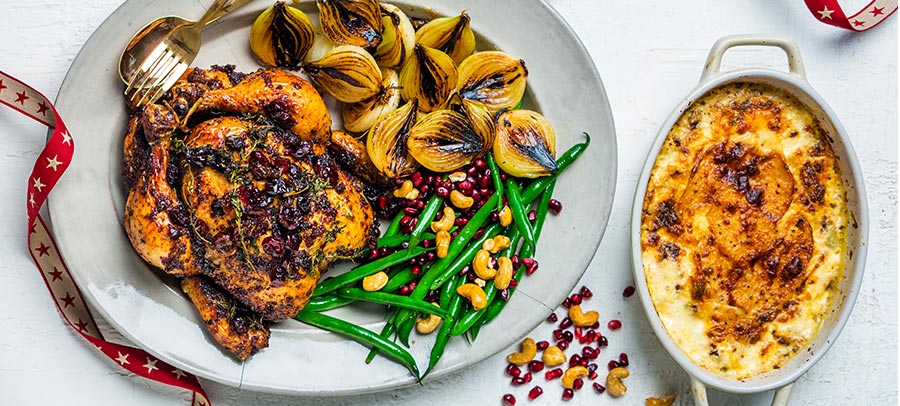 Prep time
50min

Cook time
90min

Serves
4
Love a traditional festive meal with roast chicken and all the trimmings? Then this recipe should go on your menu.
Ingredients:
Marinade
1/3 cup (80ml) dried cranberries
2 tbsp (30ml) olive oil
2 tbsp (30ml) maple syrup
¼ cup (60ml) balsamic vinegar
salt and black pepper
2 garlic cloves, finely chopped
Chicken
1 whole chicken
a small handful of fresh thyme leaves
½ cup (125ml) fresh cranberries
2 tbsp (30ml) each maple syrup and melted butter
10-12 baby onions, peeled
olive oil
salt and pepper
Method:
Preheat the oven to 190°C.
Blitz the ingredients for the marinade in a blender until smooth. Season to taste.
Place the chicken on a roasting tray, pour over the marinade and cover.
Marinate for 30 minutes in the refrigerator.
Roast the chicken, covered, in the marinade for 1 hour. Uncover and scatter with cranberries and thyme.
Brush with maple syrup and butter, and roast for 20 minutes more.
Place the onions on a roasting tray, drizzle with oil, season and roast for 20-30 minutes.
Arrange the chicken and onions on a platter.
Serve with green beans and creamy potato gratin.