Parmesan-crusted chicken pieces with nectarine and burrata salad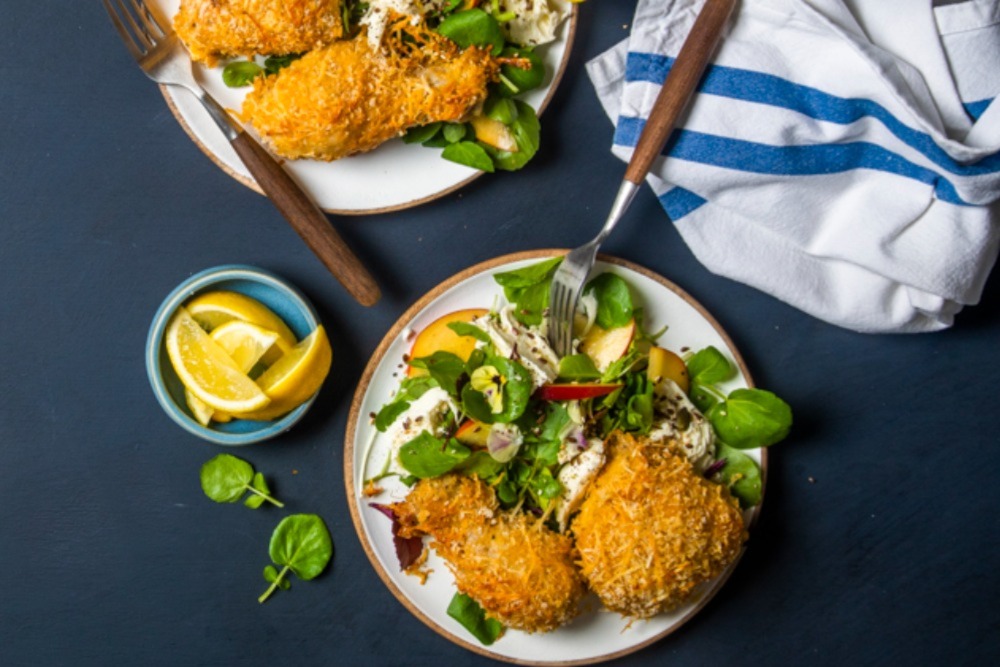 Prep time
20min

Cook time
40min

Serves
4
A simple way to savour and celebrate the season's best produce.
Ingredients:
For the chicken
8 chicken pieces, thighs and drumsticks
¼ cup (60ml) butter, melted
2 Tbsp (30ml) mayonnaise
1 tsp (5ml) onion powder
1 tsp (5ml) paprika
1 Tbsp (15ml) Dijon mustard
1 cup (250ml) parmesan or pecorino, finely grated
1 cup (250ml) panko breadcrumbs
For the salad
2 Tbsp (30ml) balsamic vinegar
1 tsp (5ml) wholegrain mustard
1 tsp (5ml) honey
1 Tbsp (15ml) olive oil
2 nectarines
60g mixed baby salad leaves (rocket, watercress, baby spinach)
1-2 burrata (depending on the size)
10g mint leaves
¼ cup (60ml) mixed seeds, toasted
Salt and milled pepper
Lemon wedges, to serve
Method:
Preheat the oven to 190°C.
Allow the chicken to come to room temperate. Line a baking tray with foil and grease.
Place the chicken in a bowl and season with salt and pepper.
Whisk the butter, mayonnaise, onion powder, paprika and mustard together.
In a separate bowl, mix the parmesan and breadcrumbs together.
Dip the chicken pieces into the butter mixture, coating all over, then into the crumb mixture. Press the crumb mixture well onto the chicken to coat.
Place the chicken pieces onto the baking tray.
Bake in the oven for 35-40 minutes until the chicken is cooked through and crispy.
In the meantime, prepare the salad. Whisk the balsamic, wholegrain, mustard, honey and olive oil together. Season to taste.
Slice the nectarine into thin wedges. Layer the salad leaves onto a platter, place the burrata in the centre and scatter around the nectarine. Sprinkle with mint leaves and toasted seeds.
Just before serving, drizzle over the dressing.
Place the crumbed chicken pieces and lemon wedges on a platter with the fresh nectarine salad alongside. Serve.