Sticky apricot, honey chicken with almond rice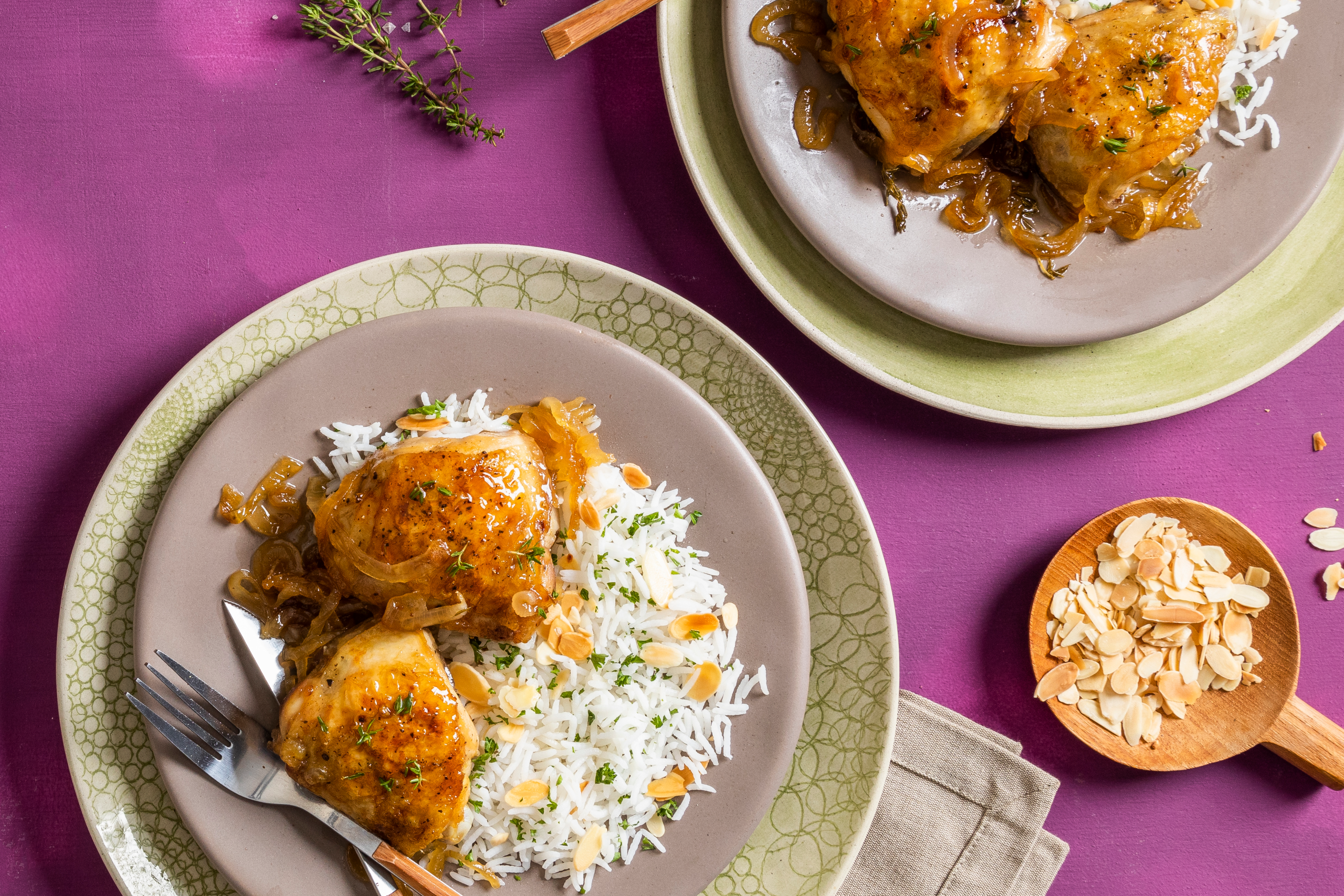 Prep time
20min

Cook time
30min

Serves
2
A great way to use up the last bit of apricot or peach jam in the jar.
Ingredients:
2 Tbsp (30ml) olive oil
1 x County Fair Chicken Thigh (4pcs)
1 onion, sliced
3 sprigs fresh thyme, or dried
¼ cup (60ml) apricot jam
¼ cup (60ml) honey
1 Tbsp (15ml) soy sauce
Juice of 1 orange
1 cup (250ml) cooked jasmine rice
50g flaked almond, toasted (can substitute for peanuts or leave out)
2 Tbsp (30ml) parsley, roughly chopped, plus extra for garnish
Salt and milled black pepper
Method:
Preheat the oven to 180°C.
Heat the olive oil over medium-high heat in a skillet or heavy-based pan. Season the chicken thighs generously with salt and pepper, then add to the heated pan, skin side down. Allow the skin to fry golden and crispy, then remove from the heat.
Turn the heat down on the pan, and add the onion and thyme sprigs. Gently sauté for 8 minutes, until softened. Stir often to avoid too much colour. Discard the thyme stalks from the pan.
In a bowl, whisk the apricot jam, honey, soy and orange juice together. Place the chicken back into the pan, skin side up, then tip in the jam mixture. Swirl the pan around, allowing the glaze to melt.
Place the lid on the dish, or cover it with foil, and place it in the oven. Allow to cook for 25-30 minutes until the chicken is cooked through.
Prepare your rice by gently stirring the almonds and parsley through it, then season with salt and pepper.
Divide the rice between two bowls, top with two pieces of chicken each and spoon over some of the glaze and onion mix. Top with extra chopped parsley.
Serve.