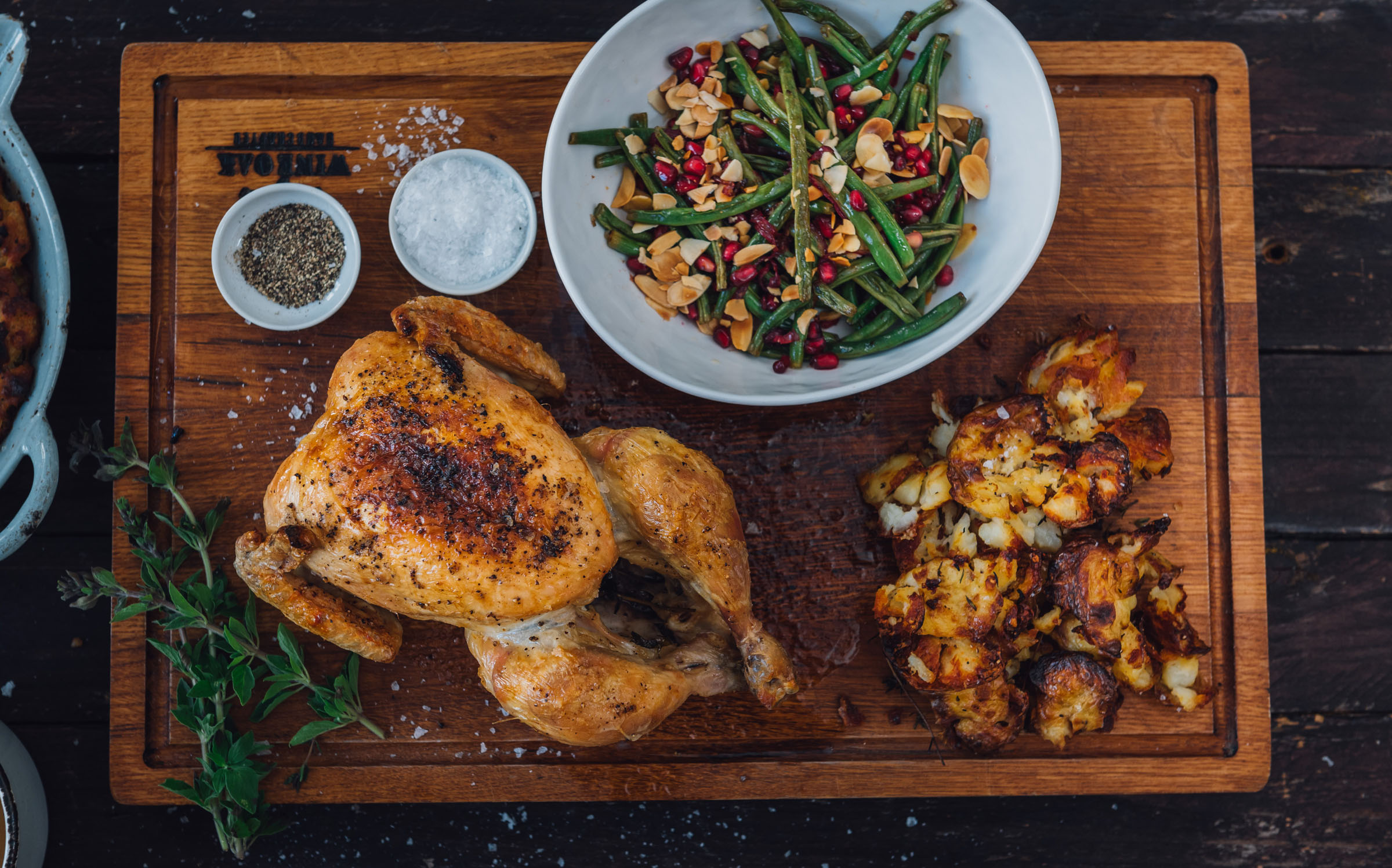 Prep time
20min

Cook time
80min

Serves
4
Trussing a chicken makes for moist, juicy meat that's best served with homemade gravy.
Ingredients:
1 whole chicken
1 lemon, cut into halves
2 sprigs of thyme
2 carrots, chopped
1 celery stick, chopped
1 brown onion, chopped
500ml chicken stock
50g flour
500g baby potatoes
300g green beans
1 red onion, sliced
100g toasted, sliced almonds
100g pomegranate rubies
salt, pepper and olive oil
Stuffing ingredients:
100g unsalted butter
1 cup onion, diced
1 cup celery, thinly sliced
100g bacon, chopped
2 cups day-old bread, cubed
3 Tbsp parsley, chopped (plus more for garnish)
2 Tbsp fresh sage leaves, minced
1 Tbsp fresh rosemary, chopped
1 Tbsp fresh thyme, chopped
1 tsp salt
¼ tsp pepper
2 cups chicken stock
1 cup white wine
1 large egg, beaten
Method:
First stuff the chicken with the herbs and lemon and then truss it.
Place the chicken on a baking tray with the onions, celery, and carrots (all roughly chopped). Roast for an hour at 200°
Boil the baby potatoes until tender, remove from the water, and smash onto a roasting tray. Add the butter, olive oil, and seasoning, and roast in the oven with the chicken.
Blanch your green beans in the boiling potato water and set aside.
When the chicken is cooked through, remove it from the oven. Rest the bird, covered in foil.
Add wine and stock to a pot. Stir over medium-high heat and allow the gravy to form. If necessary, add some flour. Drain and serve.
Fry the red onion and green beans. Season with salt, pepper, and lemon juice, and add the almonds and pomegranate rubies.