Moroccan chicken and butternut tagine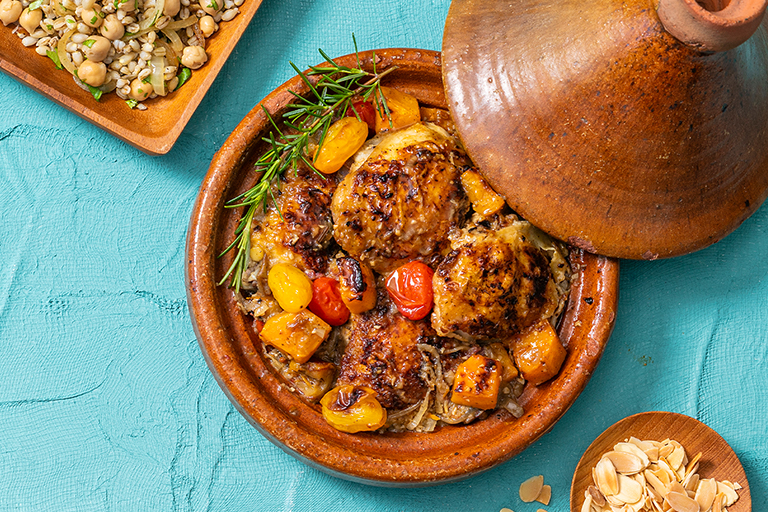 Prep time
20min

Cook time
75min

Serves
4
Spices, citrus, ginger, dates and almonds all add exotic flavour to this easy chicken dish.
Ingredients:
20ml olive oil
8 chicken thighs, dusted with 30 ml flour
salt and pepper
30ml Moroccan rubs
1 onion, sliced
4 garlic cloves, crushed
1 thumb-sized piece of ginger, grated
200ml chicken stock
fresh dates, chopped
zest of 1 orange
500g butternut, peeled and cubed
200g baby tomatoes
50g almond flakes, toasted
parsley and coriander, chopped
Barley with chickpeas:
120g barley
625ml water
2.5ml salt
1 tin chickpeas, drained and rinsed
15ml Moroccan rub
80ml caramelised onion
Method:
Preheat the oven to 180°C.
Heat most of the oil in an ovenproof casserole on medium heat.
Brown the chicken pieces on both sides. Season with salt, pepper, and half of the Moroccan rub. Remove and set aside.
Add the rest of the oil and onion to the casserole and cook for a few minutes.
Add the garlic and ginger and cook for another minute.
Add the stock, dates, zest, and the rest of the Moroccan rub. Mix well and add the chicken back to the casserole. Add the butternut.
Bake in the oven for about 45 minutes until almost cooked. Cook with the lid for half of the cooking time and then remove the lid to reduce the sauce and caramelise.
Add the baby tomatoes and bake for another 10 minutes.
Sprinkle with the toasted almonds and herbs. Serve with the barley.
To cook the barley:
Cook the barley in a covered saucepan with water and salt for about 20 minutes until most of the liquid has been absorbed.
Fluff with a fork, replace the lid, and remove from the heat.
Add the rest of the ingredients and mix lightly.