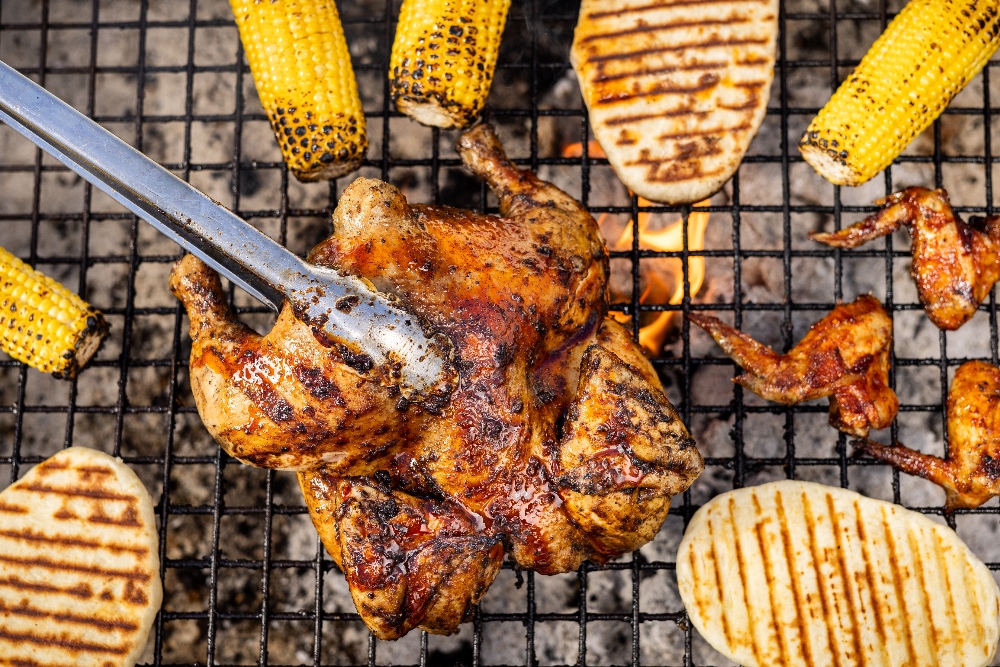 Prep time
1h:15min

Cook time
50min

Serves
5
For your next braai weekend, why not try your own spice rub on your favourite meat?
Ingredients:
1 lemon, juiced
2 tsp (10 ml) salt
½ tsp (3 ml) chilli powder
½ tsp (3 ml) ground cumin
1 tsp (5 ml) black pepper
1 tsp (5 ml) cayenne pepper
1 tsp (5 ml) dried oreganum
1 whole chicken, flattened
For the chakalaka sauce:
3 Tbsp (45 ml) sunflower oil
1 onion, diced
1 Tbsp (15 ml) ginger and garlic paste/crushed ginger and garlic mix
1-2 Tbsp (30 ml) curry powder
1 large green/yellow or red pepper, diced
2 carrots, grated
1 can (410g) diced tomatoes
2 tsp (10 ml) sugar
1 tsp (5 ml) chopped fresh thyme *optional
Fresh chilli or chilli flakes, to taste
Salt and pepper, to taste
Method:
Coat the chicken in lemon juice.
Mix the spices well and coat the chicken with the spices.
Rest the chicken in the fridge for roughly 1 hour before cooking.
Start the fire while the chicken is in the fridge, or preheat the oven to 180°C.
If braaing, place the chicken on a hot braai grid over medium warm coals, and braai for 40-50 minutes, turning every 15 minutes. If oven roasting – transfer chicken to an oven tray and roast for 30-40 minutes.
Make the chakalaka while the chicken is braaing by slowly cooking the onion in the oil for 8 minutes - don't let it burn.
Add the ginger and garlic mix and the curry powder and cook for another minute, then add the rest of the vegetables. Saute for 5 minutes, then add the canned tomato and seasoning.
Let the chakalaka simmer for 15 minutes, and adjust the seasoning to taste (now is when to add chilli if you are using it).  Serve the warm chakalaka with the chicken.