Jamaican jerk-spiced braai chicken quarters
served with charred sweetcorn and kidney bean salad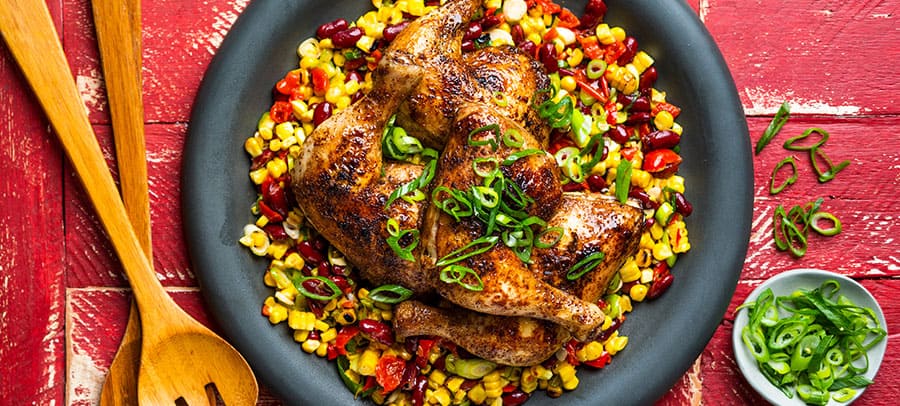 Prep time
1h:20min

Cook time
85min

Serves
8
Spicy braai chicken with charred sweetcorn and kidney bean salad makes for a crowd-pleaser of a meal.
Ingredients:
Jerk spice
1 tsp salt
1 tsp ground allspice
1 tsp packed brown sugar
1 tsp onion powder
1/2 tsp dried minced garlic
1/2 tsp ground nutmeg
1/2 tsp black pepper
1/2 tsp ground ginger
1/4 tsp cayenne pepper
1/4 tsp ground cinnamon
1/4 tsp dried thyme leaves
1/4 cup vegetable oil
Salad
4 x corncobs
200g of jarred Peppadews, chopped
1 bunch of spring onion, chopped
1 can kidney beans
Dressing
1tsp horseradish or mustard
1 tsp brown sugar
1/4 tsp paprika
1 tbsp lime juice
3 tbsp olive oil
Method:
Preheat the oven to 180°C.
To make the jerk spice, mix the salt, allspice, brown sugar, onion powder, garlic, nutmeg, pepper, ginger, cayenne pepper, cinnamon and thyme. Toss the chicken pieces in the jerk spice, cover and marinade in the fridge for 2 to 4 hours.
Pour the vegetable oil into a baking dish. Put the chicken pieces, skin side up, onto the baking dish. Bake for about 80 minutes, until the chicken is no longer pink near the bone. Turn the oven on to grill, and cook until the skin crisps up, about 2 to 5 minutes.
Blanch the corn in boiling water for 2 minutes and refresh in ice water. Char the corn on each side until blackened in a hot grill pan. Remove the corn kernels with a knife and set aside for the salad.
To make the dressing, put the horseradish (or mustard), brown sugar, paprika, lime juice and olive oil into a jar and shake well.
Mix in the drained kidney beans, chopped spring onions and red peppers and charred sweetcorn in a salad bowl, toss in the dressing and serve with the chicken.