Grilled chicken lettuce cups with mustard yoghurt mayo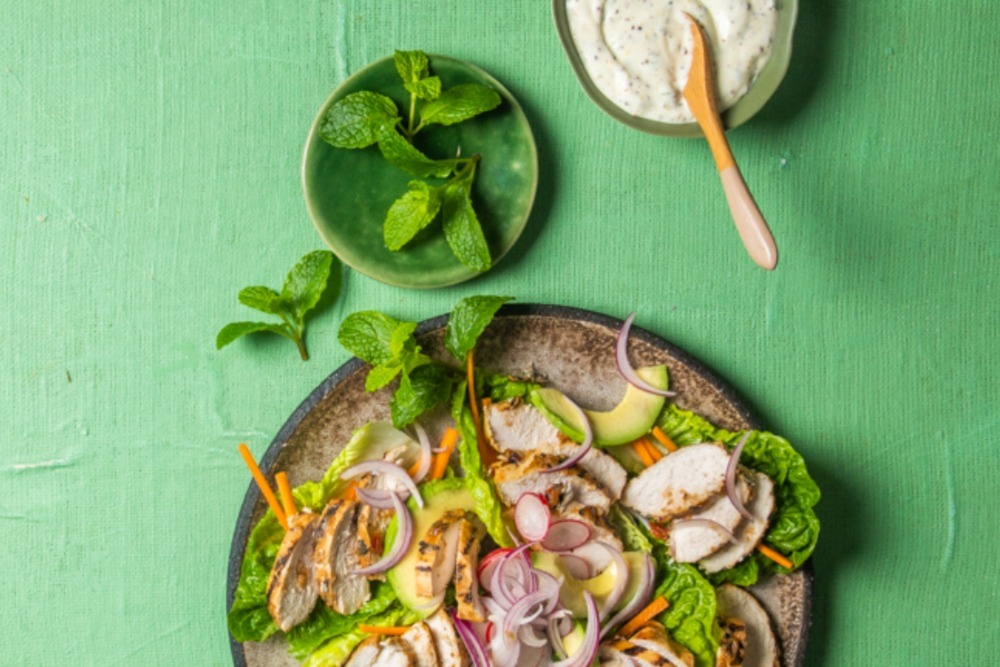 Prep time
20min

Cook time
15min

Serves
4
Light and lovely, these cups make the perfect starter served in smalled lettuce cups or a light meal when served in larger.
Ingredients:
For the chicken
1 Tbsp (15ml)  olive oil
2 Tbsp (30ml) sweet chilli sauce
2 Tbsp (30ml) BBQ sauce
2 Tbsp (30ml) lemon juice
1 Tbsp (15ml) onion powder
1 Tbsp (15ml) garlic powder
4 chicken breast fillets
For the salad cups
3 Tbsp (45ml) yoghurt
1 Tbsp (15ml) mayo
1 Tbsp (15ml) lemon juice
5g mint leaves, chopped
1 Tbsp (15ml) wholegrain mustard
To serve
16 lettuce leaves, romaine or butter (must be big enough to hold the filling)
1 avocado, thinly sliced
1 carrot, grated
½ red onion, finely sliced
4 radishes, thinly sliced
Handful of mint
Salt and milled pepper
Method:
Whisk together the olive oil, sweet chilli, BBQ sauce, lemon juice, onion and garlic powder with a pinch of salt and pepper. Add the chicken and mix well.
Heat a griddle pan on high. Add the chicken and grill until cooked through.
Allow to cool, then thinly slice.
Prepare the salad: Mix all the ingredients for the dressing together and season.
Place the lettuce cups on a platter.
Divide the grated carrot, avocado and red onion between each.
Top with sliced chicken, drizzle over the dressing and finish with sliced radish and fresh mint leaves. Serve.