Blackberry jam fried chicken breasts with creamy mash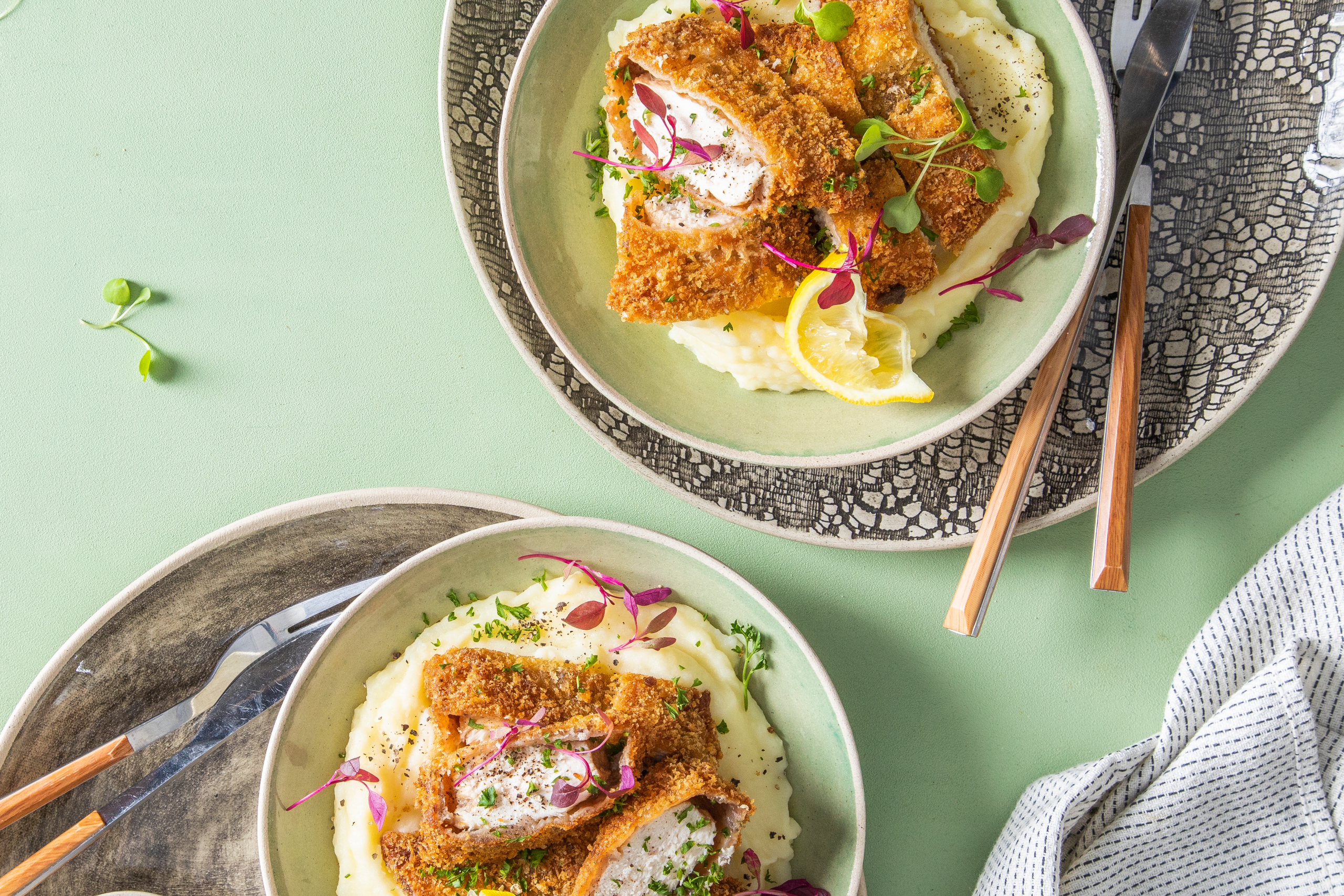 Prep time
15min

Cook time
30min

Serves
4
Crunchy, sweet, salty and utterly delicious. These chicken breasts deliver on all fronts.
Ingredients:
1 x County Fair Chicken Breasts (4pcs)
150g blackberry or blackcurrant jam
3 Tbsp (45ml) balsamic vinegar
1 egg
100g panko breadcrumbs
1 tsp (5ml) salt
1 tsp (5ml) dried thyme
1 tsp (5ml) onion powder
1 tsp (5ml) garlic powder
1L canola oil
For the mash:
1kg potatoes, peeled and cut into rough 2.5cm cubes
Salt, to taste
50g butter
100ml milk, warm
Fresh herbs, to serve
Method:
Place the chicken breasts into a zip lock bag or between cling film. Using a rolling pin, gently bat the chicken pieces, so they are more even in thickness.
Whisk the blackberry jam, balsamic vinegar and egg together. Add the chicken, toss, and allow to marinate in the fridge for at least 30 minutes.
Mix the panko breadcrumbs, salt, thyme, onion and garlic powder together. Remove the chicken from the marinade, brush off any big clumps of jam, and toss through the panko mix. Coat each piece well and evenly and place on a tray.
Pour the oil into a heavy-based pan and turn on the heat. Allow the oil to heat enough that when you drop in a sprinkle of crumb, it bubbles but doesn't burn straight away.
Fry the chicken, two pieces at a time, turning until golden and cooked through, about 8 minutes, then drain on paper towel. Season with a small pinch of salt. Repeat until all are cooked.
For the mash: Place the potatoes in a pot with a generous pinch of salt, and fill with water to cover.
Place on the stovetop and allow to simmer for 15-20 minutes until the potatoes are soft.
Strain the water out and place the potatoes back into the empty pot. Start mashing the potatoes until almost smooth, then add the butter and milk. Continue to mash until creamy. Season to taste with salt.
Smear a dollop of creamy potato mash between four plates. Top with the crispy chicken and garnish with fresh herbs.