Flapjacks with hot buffalo chicken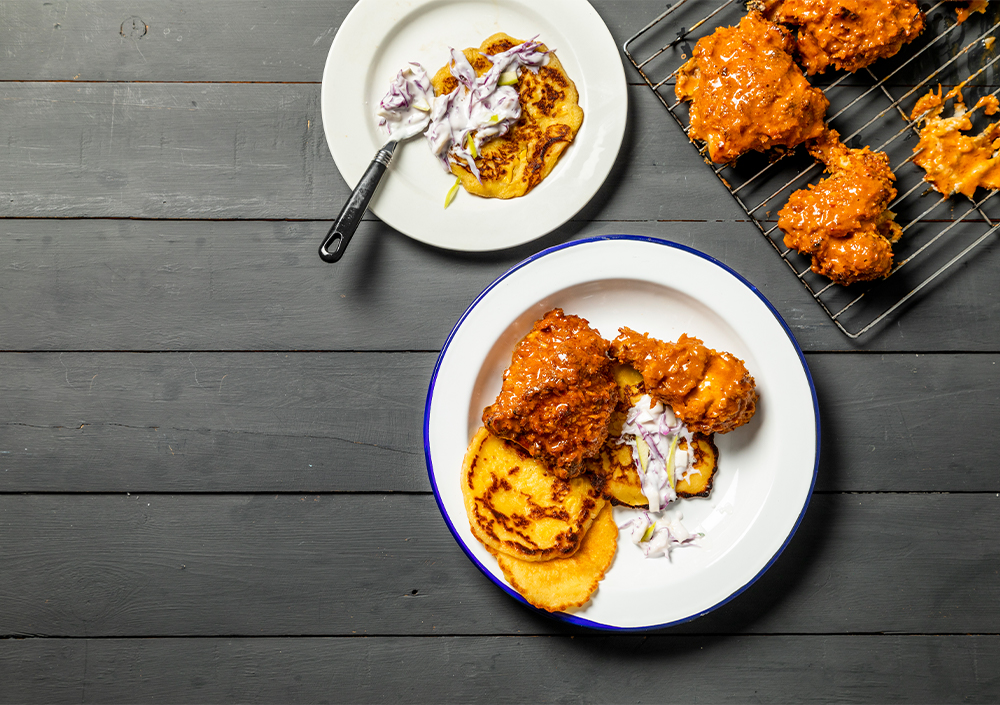 Prep time
30min

Cook time
60min

Serves
6
The buffalo chicken can be hot or flaming hot. Just add more sauce, if you dare!
Ingredients:
For the flapjacks:
60ml corn kernels
375ml flour
10ml baking powder
5ml sugar
salt
250g margarine, melted
4 egg yolks
250ml amasi
1 lemon zest
30ml oil
For the chicken:
200ml flour
5ml cayenne pepper
5ml paprika
1ml garlic powder
salt
2 eggs
125ml hot sauce
500ml bread crumbs
12 chicken pieces
60ml each butter and hot sauce, mixed
For the coleslaw:
¼ red cabbage, shredded
1 apple, chopped
45ml honey
125ml plain yoghurt
Method:
In a bowl, mix the corn, flour, baking powder, sugar, and salt.
Mix the margarine, egg, amasi, and lemon zest.
Whisk the liquid into the dry ingredients. Mix until the batter is smooth and thick.
Heat a non-stick pan over medium heat and add a splash of oil.
Drop spoonfuls of batter in the pan and fry until golden on each side.
Buffalo chicken:
Preheat the oven to 200°
Mix the flour, cayenne pepper, paprika, garlic powder, and salt.
In a bowl, mix the egg and hot sauce. Add the breadcrumbs to another bowl.
Dust the chicken with the flour mixture, dip into the egg mixture, and dip into the breadcrumbs, making sure the chicken is covered with delicious crumbs.
Place the over a wire rack on a baking sheet. Roast for 35 minutes.
After cooking, dip each chicken piece into the hot sauce mixture.
Last steps:
Mix all the ingredients together in a bowl.
Serve over the flapjacks and buffalo chicken.