Chicken and butternut with yoghurt dressing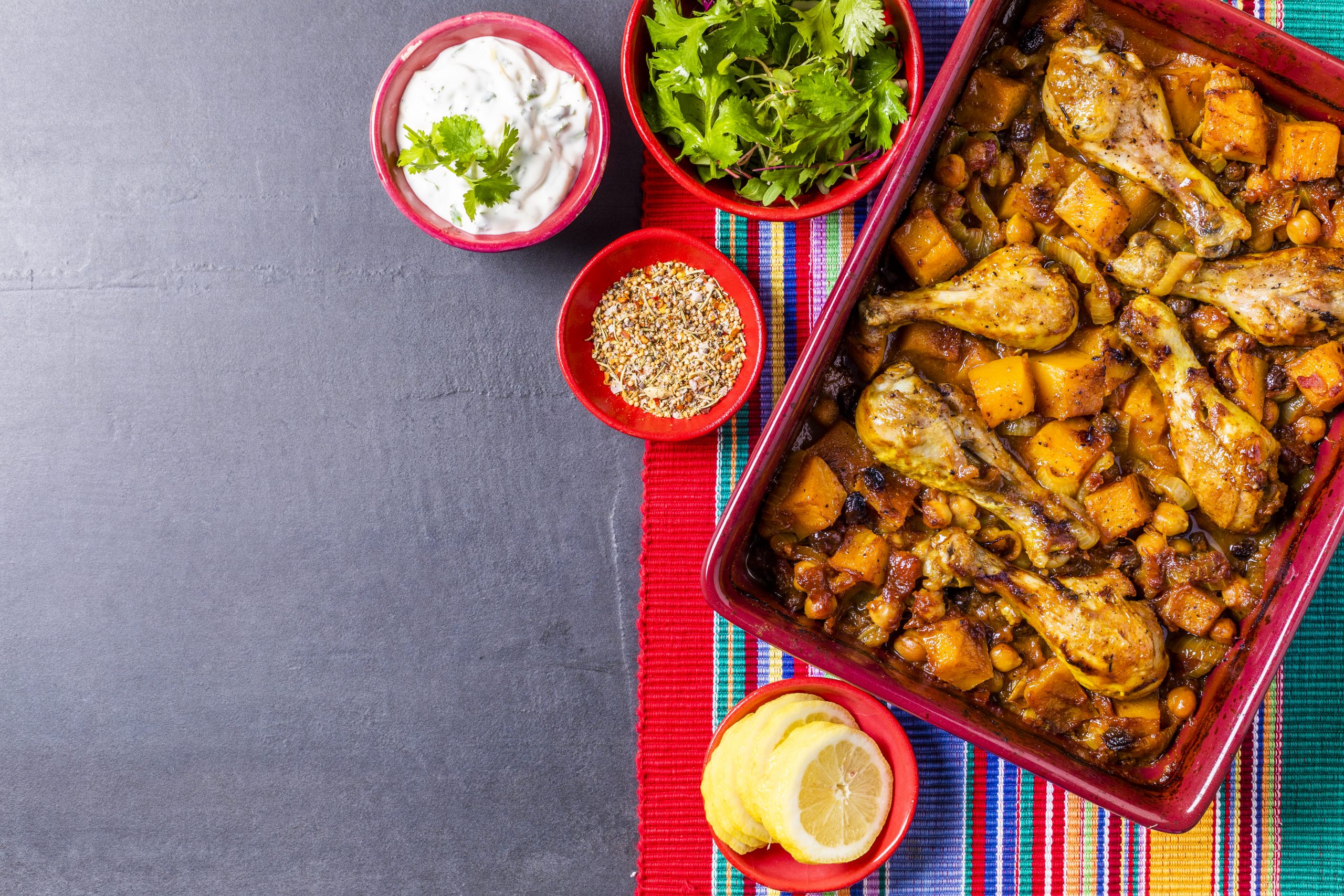 Prep time
30min

Cook time
60min

Serves
3
Keep things fresh and tasty this summer by adding a mouth-watering herb and yoghurt dressing to chicken.
Ingredients:
Chicken:
15ml canola oil
6 x chicken drumsticks
1 onion, thinly sliced
2 cloves garlic, finely chopped
salt and pepper
5ml ground cumin
5ml ground coriander
5ml ground ginger
2.5ml cinnamon
2.5ml turmeric
2.5ml paprika
1 small butternut, peeled and cubed
1 x 400g tin chopped tomatoes
1 x 400g tin chickpeas
30g raisins
1 lemon
10g coriander, roughly chopped
Yoghurt herb dressing:
125ml full cream yoghurt
30ml lemon juice
5ml lemon zest
10g mint, chopped
15g coriander, chopped
salt and pepper
Method:
Chicken:
● Preheat the oven to 170°C.
● Heat the canola oil in a heavy based oven friendly pot or casserole dish. Once the oil is hot, add the drumsticks. Let the skin turn golden brown before removing them from the pot.
● Turn the heat down to low and add the onion and garlic, with a pinch of salt and pepper. Allow the onion to soften. Add the cumin, coriander, ginger, cinnamon, turmeric and paprika and sauté until aromatic.
● Add the butternut, tinned tomatoes, chickpeas including the liquid, raisins and a squeeze of lemon juice. Stir everything together, then top with the chicken.
● Cover the pot with a lid or tinfoil, and pop it into the oven. Cook for 40 minutes then remove the lid, and cook for a further 20 to 30 minutes.
Yoghurt-herb dressing:
● While the chicken is cooking, make the yoghurt dressing by mixing the full-cream yoghurt, lemon juice and zest, mint and coriander. Season to taste with salt and pepper. Set the dressing aside until you're ready to serve.
Remove the chicken from the oven and season with more salt, pepper and lemon juice to your tasting. Serve hot, topped with the herb yoghurt dressing and fresh coriander.