Amagwinya with tomato-and-onion chicken livers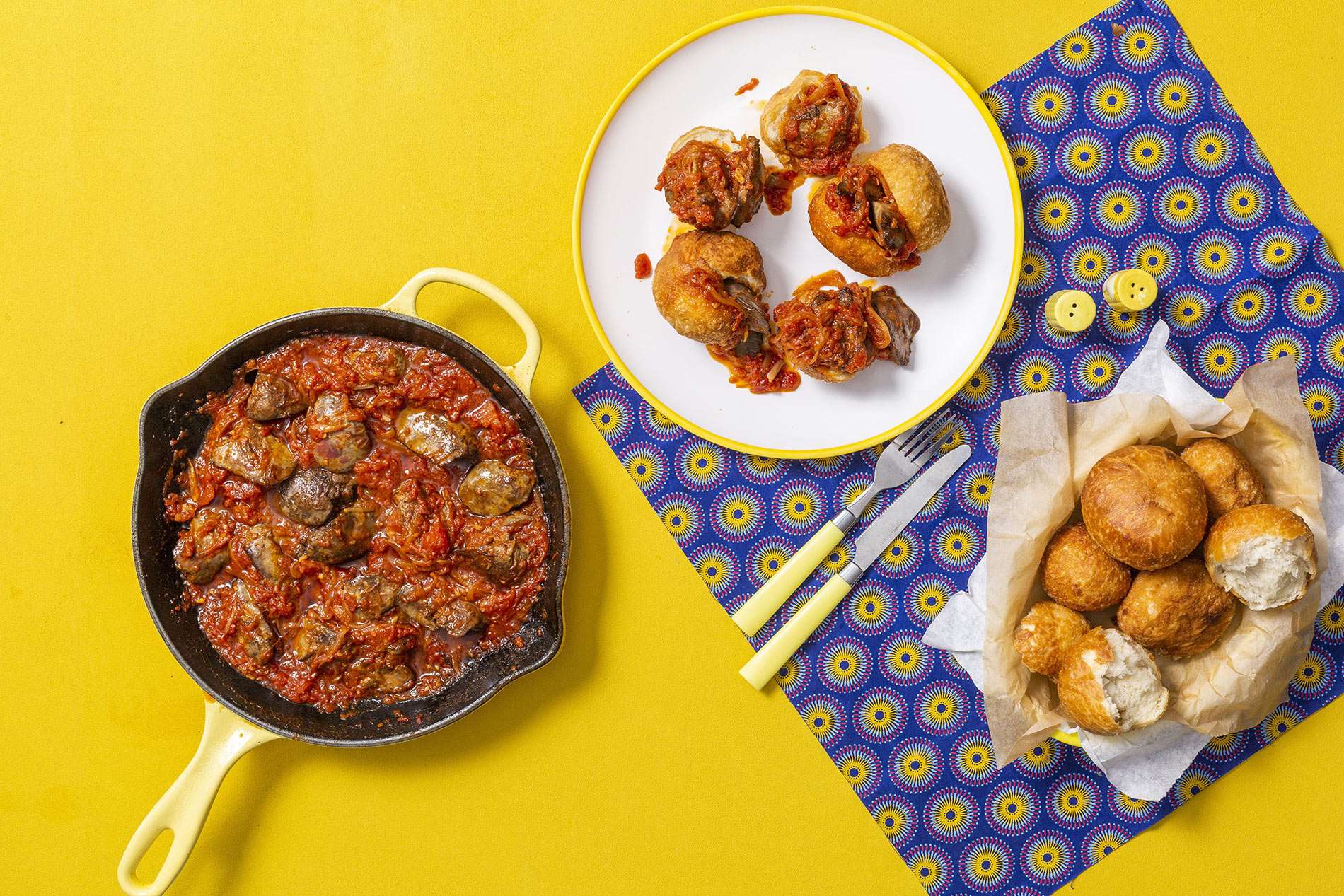 Prep time
60min

Cook time
30min

Serves
4
An easy, affordable snack that's perfect for some summer entertaining.
Ingredients:
250g chicken livers
60ml oil
1 can chopped tomato
1 onion, sliced
2 garlic cloves, minced
1 tsp chilli flakes
salt and pepper
Amagwinya:
3 cups flour
10g yeast
1 tbsp salt
2 tbsp sugar
2 tbsp oil
375ml warm water
1,5–2 litres oil for deep frying
Method:
Drain chicken livers and pat dry.
Heat half the oil in a pan and fry the livers until firm (8–10 minutes).
Remove livers from the pan and set aside.
Add the remaining oil and lightly caramelise the onions for about 10 minutes.
Add the garlic and chilli flakes and cook for 1 minute.
Now add the can of tomatoes and a pinch of salt, and simmer for 5 minutes until reduced.
Once the tomato-and-onion mixture has thickened, add the livers.
Serve with amagwinya.
Amagwinya:
Combine all the dry ingredients in a large mixing bowl.
Make a well in the centre of the dry ingredients and add the warm water and oil.
Slowly combine the mixture until it forms a dough.
Knead on a lightly floured surface for 10 minutes, until the dough is smooth and bounces back when gently pressed.
Place the dough in a lightly oiled bowl, cover, and leave in a warm place to rise for 40 minutes.
Knock air out of the dough and divide into golf-sized balls.
In a saucepan, heat the oil. To test when the oil is ready, dip a wooden spoon in the oil. It's ready when small bubbles appear around the spoon.
Add 3–4 amagwinya to the saucepan. Don't overcrowd the pan and cook for 4 minutes, until golden in colour.
Remove from oil. Drain.
Serve with tomato-and-onion chicken livers.