Fajita chicken and corn nachos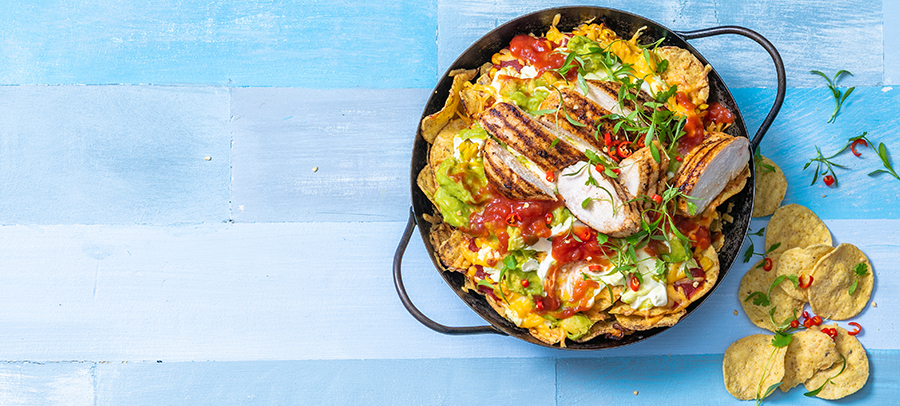 Prep time
1h:30min

Cook time
40min

Serves
4
Nacho average meal! These quick chicken nachos are likely to become a family favourite.
Ingredients:
40ml olive oil
10ml fajita spice
4 County Fair breast fillets
400g good-quality nachos
2 corn on the cob, cooked and lightly charred
125ml caramelized onion, cooked and chopped
200ml mild salsa
250ml chunky cottage cheese (plain)
400ml matured cheddar cheese, grated
300ml guacamole (mashed avocado, chilli, lemon juice, chopped spring onion)
100ml crème fraiche
chopped coriander
Method:
Preheat the oven to 190°C.
In a small bowl, mix together the olive oil and fajita spice.
Gently pound the chicken breast with a meat mallet to get it to an even thickness and rub with the fajita oil. Set aside.
Divide the nachos between four ovenproof serving bowls or one large dishs.
Cut the corn off the cob and mix with the caramelized onion. Divide between the four bowls and spoon on top of the nachos.
Top with the salsa and cottage cheese.
Sprinkle with the cheddar cheese and bake in the preheated oven for 10-15 minutes.
Meanwhile, heat a griddle pan on medium heat and cook the marinated chicken fillets for about 3 minutes on each side until cooked through and golden brown.
Cut the fillets in half and place on top of the piping hot nachos.
Serve with dollops of guacamole, crème fraiche and chopped coriander.