Roast chicken and peach salad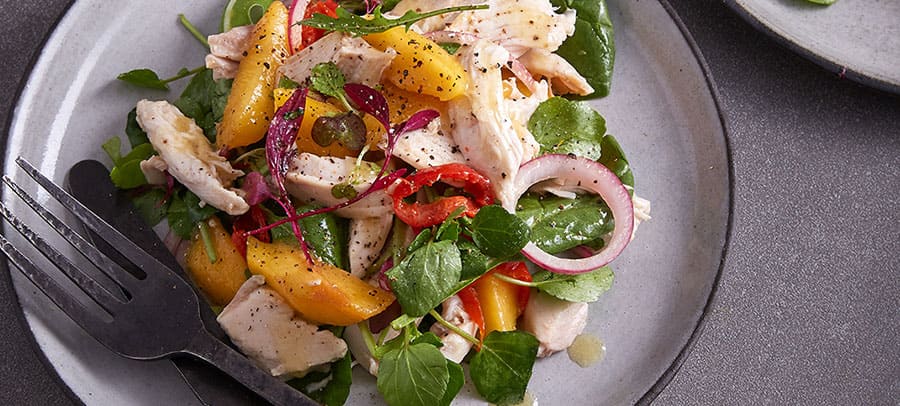 Prep time
40min

Cook time
30min

Serves
4
Make the most of peach season! Combine the summer fruit with chicken strips and greens for a delicious, light meal.
Ingredients:
1 chicken, roasted and cooled down completely
3 ripe peaches (see Cook's Note)
1 garlic clove, crushed and finely chopped
1 tsp Dijon mustard
1 tbsp sugar
Pinch of salt
1 tbsp white-wine vinegar
4 tbsp olive oil
1 tbsp parsley, chopped
7 Peppadews, chopped
1 red onion, peeled, halved and sliced
Salad leaves of your choice
Method:
Remove the flesh from the chicken and cut into large chunks. Discard the bones but keep the skin – adding a few pieces of the crispy skin to the salad will add more flavour.
Cover the peaches with boiling water and leave for 2 minutes. Drain the water and slip off the skins. Halve the peaches, remove the stones and cut into thick slices. Put the garlic, mustard, sugar, salt, vinegar, oil and parsley into a screw-top jar and shake well until blended. Pour over the peaches and marinade for 30 minutes.
Arrange the salad leaves in a bowl just before serving. Add the chicken pieces to the peaches and toss together gently. Arrange on top of the salad leaves and garnish with Peppadews, red onion slices and crispy chicken skin.
Cook's Note:
If peaches are out of season, you can use canned peaches or fresh soft pears, peeled and sliced. Papinos are also a great and colourful alternative.