Buttery herb roast chicken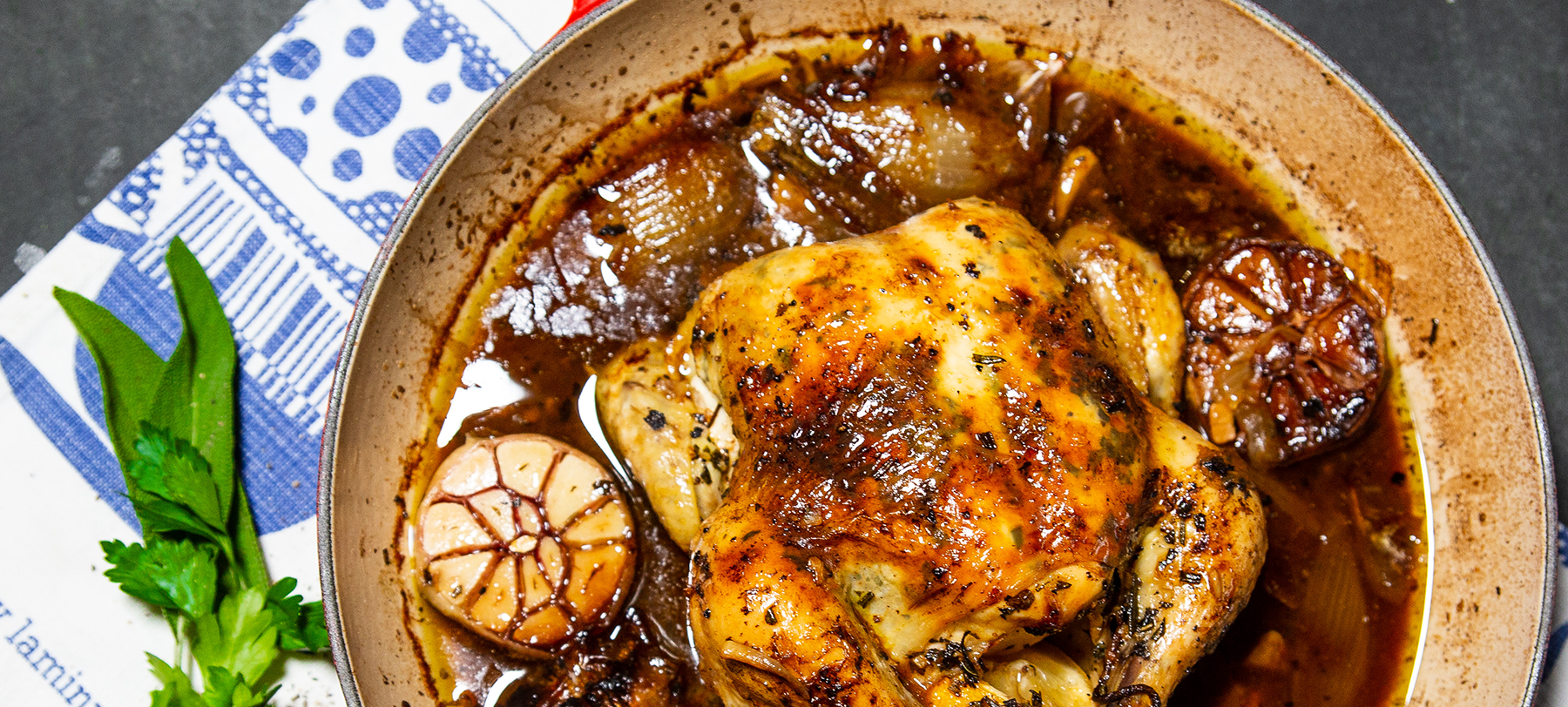 Prep time
20min

Cook time
90min

Serves
4
This recipe for roast chicken with butter and herbs is not only easy but packed full of flavour.
Ingredients:
1 whole chicken
salt and pepper
2 tsp olive oil
1 lemon
3 rosemary sprigs
1 cup dry white wine
1 onion, quartered
1 garlic bulb, halved horizontally
Butter:
100g unsalted butter, melted
3 garlic cloves, minced
1 tbsp sage, finely chopped
2 tsp rosemary, finely chopped
1 tbsp parsley, finely chopped
1/2 tsp each salt and black pepper
Method:
Take the chicken out of the fridge 30 minutes before cooking.
Preheat the oven to 220°C and position the oven rack in the centre.
Mix all the ingredients for the butter.
Place the chicken in a roasting pan. Use a dessert spoon to loosen the skin on the breast and drumsticks.
Prop the chicken upright and drizzle butter under the skin. Save a bit of butter for the skin.
Smear the remaining butter all over the surface of the chicken. Squeeze over the juice of two lemon wedges.
Stuff the chicken with the used lemon wedges and rosemary.
Truss the chicken and tuck the wing tips under the bird.
Sprinkle the chicken with salt and pepper.
Place the onion and garlic in the roasting pan and place the chicken on top. Pour wine in the pan and drizzle the chicken with oil. Transfer to the oven.
Roast for 10 minutes, then turn the oven down to 180°.
Roast for a further 1 hour and 15 minutes, basting the chicken every 30 minutes or so.