Chicken, tomato, orange and pomegranate salad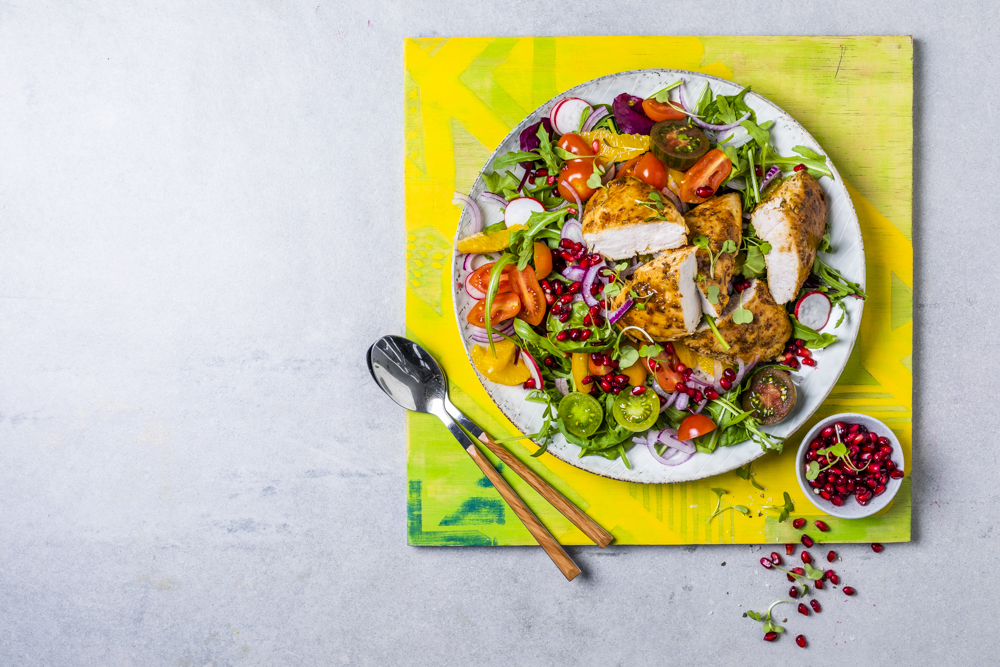 Prep time
45min

Cook time
20min

Serves
5
Serve this quick, super-tasty chicken salad at your next outdoor feast.
Ingredients:
Chicken:
4 chicken breasts
15ml olive oil
20ml pomegranate molasses
15ml orange juice
5ml orange zest
5ml thyme leaves
salt and pepper
Salad:
60g rocket
1 red onion, thinly sliced, soaked in cold water for 15 minutes, drained
3 radishes, thinly sliced
600g mixed tomatoes, halved or quartered, depending on size
2 oranges, segmented
150g pomegranate seeds
Dressing:
30ml orange juice
10ml pomegranate molasses
15ml wholegrain mustard
15ml olive oil
salt and pepper
Method:
Chicken:
- Pat the chicken breasts dry.
- In a bowl, combine all the ingredients together and add the chicken. Allow to marinade for 1 hour.
- Put a large pan on the stove over medium-high heat.
- Once hot, add the chicken with all the liquid. Cook on the one side for 3-4 minutes, until caramelised, and then turn over for 2 minutes. Turn the heat down to low, put the lid on, and allow the chicken to finish cooking slowly (about 7 minutes).
- Place the chicken on a board and rest for 8 minutes. Slice into 0.5- 1cm-thick pieces.
Salad:
- Toss all the ingredients together and place on a serving dish.
Dressing:
- Whisk all the ingredients together and season to taste.
To serve:
- Toss the chicken through the salad and finish by drizzling over the salad dressing just before serving.