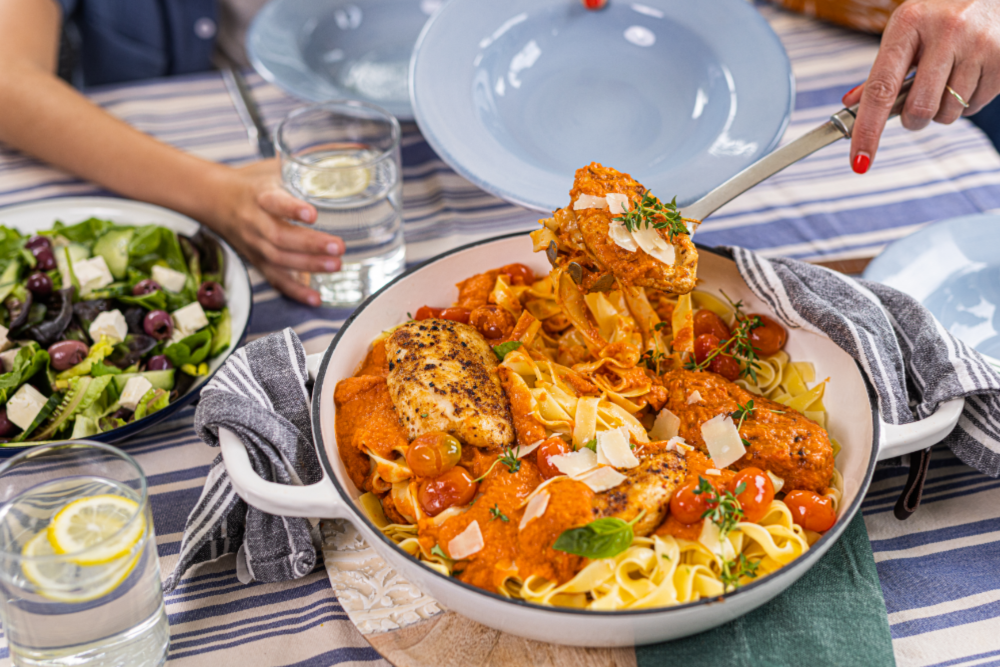 Prep time
20min

Cook time
30min

Serves
6
From the chopping block to the dinner table in under 45 minutes.
Ingredients:
4 chicken breast fillets
Salt and pepper
2 tsp (10ml) dried or fresh oreganum or thyme
2 Tbsp (30ml) butter
2 Tbsp (30ml) olive oil or vegetable oil
1 onion, finely chopped
2 cloves garlic
1 cup (250ml) cherry tomatoes
2 cups (500ml) tomato passata
1 cup (250ml) cream
1 cup (250ml) finely grated parmesan and extra shavings for serving
1 Tbsp (15ml) chopped fresh parsley or oreganum
400g pasta cooked to taste - we used linguine
Method:
Carefully slice the chicken breasts in half so that they make two flatter chicken breasts.
Season the chicken well with salt, pepper and freshly chopped herbs.
Heat the butter in a large pan over medium heat. Add 1 Tbsp olive oil.
Cook the chicken for 3-4 minutes on a side or until golden - do this in two batches.
Remove and set aside. Add the remaining olive oil.
Sauté the onion and garlic in the oil over low to medium heat until golden and soft.
Add the cherry tomatoes and cook for another 3 minutes or so.
Add the tomato passata and cook for 5 minutes then add the cream.
Add the parmesan and season well with salt and pepper.
Add the chicken breast fillets back to the sauce and cook for another 5 minutes or until they are just cooked and no longer pink in the middle.