Aromatic Cape Malay curry with yellow rice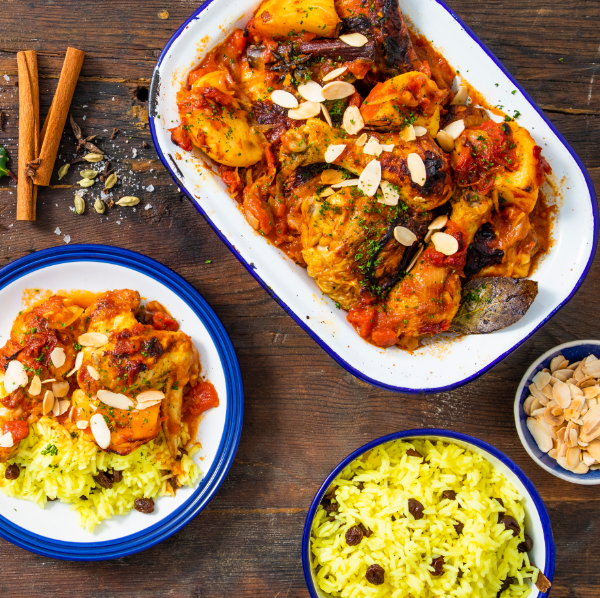 Prep time
35min

Cook time
75min

Serves
6
This family favourite is simple to make and packed with flavour.
Ingredients:
1 x chicken braai pack
60ml canola oil
2 onions, sliced
4 garlic cloves, sliced
1 thumb ginger, grated
1 red chilli, deseeded and finely chopped
15ml ground coriander
10ml ground cumin
7.5ml ground turmeric
1 bay leaf
2 star anise
1 cinnamon stick
5 cloves
6 potatoes, peeled and quartered
2 x 410g tins chopped tomatoes
30ml fruit chutney
250ml chicken stock
salt and pepper
For the rice:
525g basmati rice
75g butter
75g raisins
1 cinnamon stick
1 tsp turmeric
8 cardamom pods
For garnish:
15g coriander
100g flaked almonds, toasted
Method:
Preheat the oven to 180°
Heat the oil in a large pot on high heat.
Season the chicken generously with salt and pepper.
Add the chicken pieces to the pot, skin-side down and fry until golden. Remove from the pot and place in a large roasting tray.
Turn the heat down to low, add the onions, and sauté for 5 minutes.
Add the garlic, ginger, and chilli. Sauté for a further 5 minutes, taking care not to burn the spices.
Mix the coriander, cumin, turmeric, bay leaf, star anise, cinnamon stick, and cloves together.
Add these spiced to the pot and stir, cooking until fragrant (about 2 minutes).
Add the potatoes, tomatoes, fruit chutney, and chicken stock. Stir to combine and add to the tray with the chicken pieces, spreading everything out evenly.
Place the tray in the oven and roast for 1 – 1½ hours, until cooked through.
Yellow rice:
Put all the ingredients for the rice in a pot and cook the rice according to the package instructions.
Serve the curry with yellow rice, garnished with your fresh coriander and flaked almonds.