BUTTERMILK FRIED CHICKEN WITH A SWEET AND SOUR DIPPING SAUCE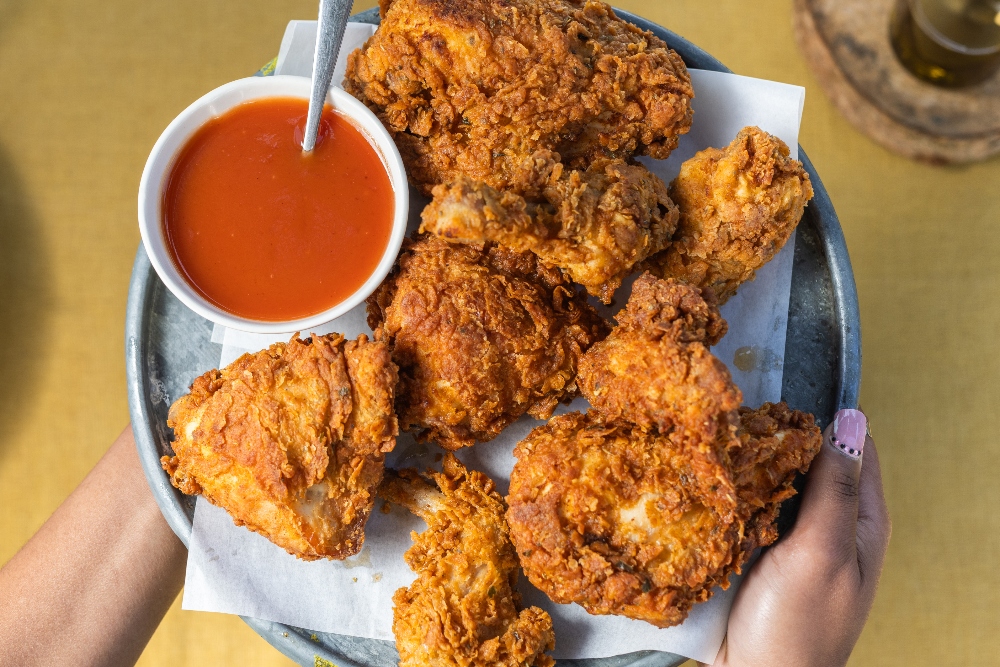 Prep time
24h

Cook time
30min

Serves
4
Remember to get a head start on this recipe, as marinating is an essential step to ensure juicy, crispy fried chicken.
Ingredients:
1 x County Fair Braai Pack
3 cups (750ml) buttermilk
2 tsp (10ml) salt
½ tsp (3ml) cayenne pepper
½ tsp (3ml) paprika
1 tsp (5ml) garlic powder
½ tsp (3ml) black pepper
For the sweet and sour dipping sauce
¾ cup (180ml) sugar
⅓ cup (80ml) white vinegar
¾ cup (180ml) water
2 ½ Tbsp (40ml) tomato sauce
3 Tbp (45ml) cornflour
Flour for fried chicken
2 cups (500ml) flour
1 Tbsp (15ml) salt
5 tsp (25ml) paprika
1 tsp (5ml) garlic powder
1 tsp (5ml) black pepper
1 tsp (5ml) oregano
½ tsp (3ml) sugar
pinch cayenne pepper
pinch chilli powder
2 eggs
2 Tbsp (30ml) water
Oil for frying
Method:
Place the chicken pieces in a thick zip-seal bag.
Add buttermilk, salt, cayenne pepper, paprika, garlic powder, and black pepper in a large bowl and mix until combined. Pour the mixture over the chicken pieces, close it tight and mix well.
Place in the fridge and marinate overnight.
Add the sugar, vinegar, and water to a small pot and place over medium heat. Whisk until the sugar has melted. Add the tomato sauce and whisk to combine.
In a small bowl, mix together the cornflour and water. Use your finger to mix, as it's the best way to feel that there are no lumps.
Bring the vinegar mixture to a slow boil, and slowly add in the cornflour while whisking continuously.
Cook until thickened, cool, and store in a jar until needed.
Heat oil in a deep fat fryer or a large pot to 180°C.
Mix together the flour, salt, paprika, garlic powder, black pepper, oregano, sugar, cayenne pepper, and chilli powder in a shallow bowl.
In another bowl, whisk the eggs and water until combined.
Remove the chicken from the buttermilk brine. Carefully dip each piece first into the egg mix, then into the flour mix.
Place each piece of chicken onto a cooling rack and allow it to air out for at least 10 minutes. If, after 10 minutes, the chicken looks damp, dip it again in the flour mixture.
Once the oil is ready, carefully place 3 pieces into the oil and fry for about 15 minutes or until cooked through, flipping the pieces over from time to time for a golden brown finish.
Repeat with the remaining pieces.
Serve with sweet and sour dipping sauce.