Garlic and rosemary chicken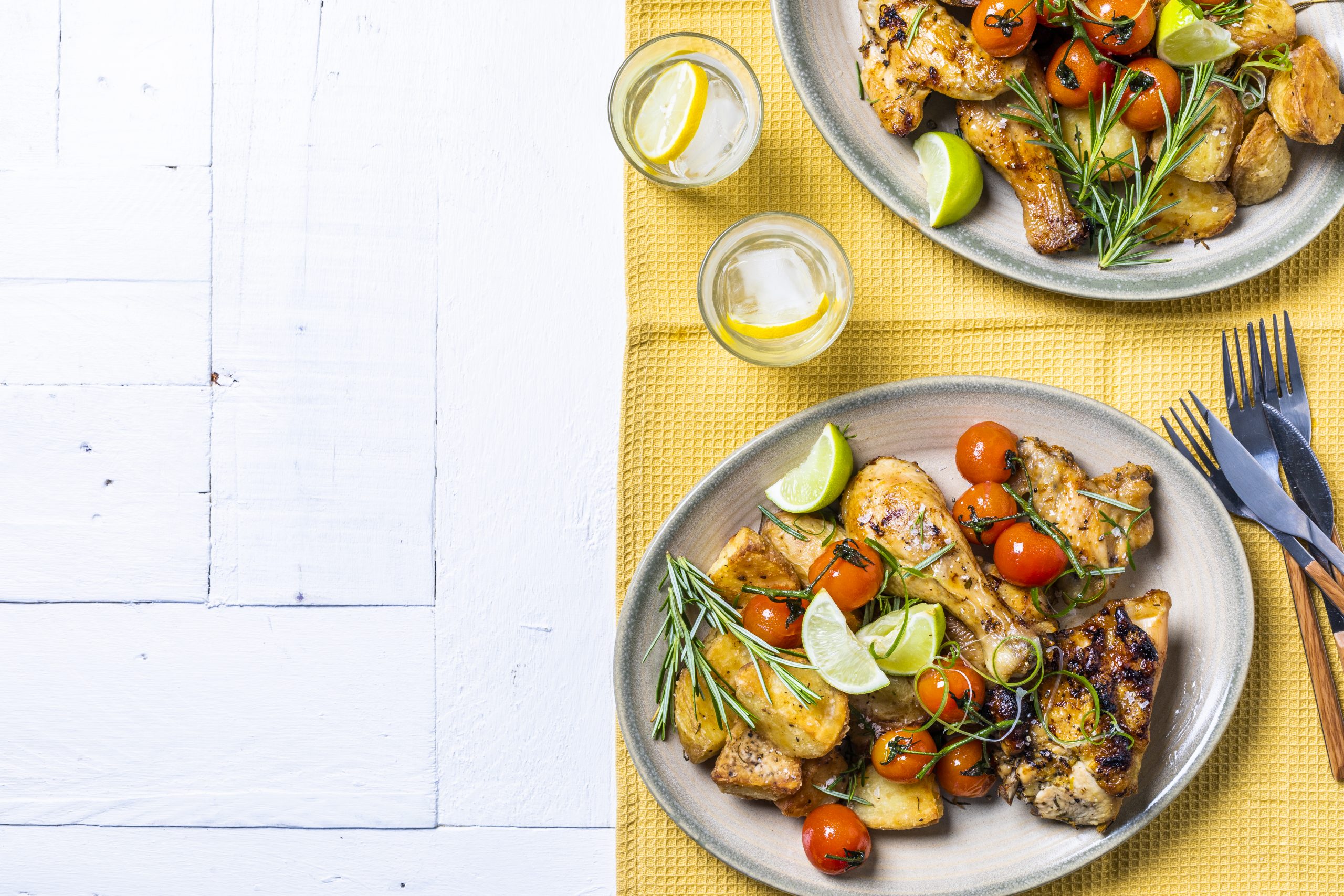 Prep time
30min

Cook time
75min

Serves
8
Rosemary and garlic turns a chicken braai pack into a delicious, pocket-friendly family meal.
Ingredients:
Chicken:
1 x braai pack of chicken
60ml olive oil
30ml rosemary, finely chopped
45ml garlic, finely grated
60ml lemon juice
30ml lemon zest
salt and pepper
Potatoes:
200ml canola oil
1kg potatoes
250ml flour
salt and pepper
6 sprigs of rosemary
Method:
Chicken:
● Preheat the oven to 185°C.
● Mix the olive oil, rosemary, garlic, lemon juice and lemon zest in a bowl. Season with a generous pinch of salt and pepper.
● Put the chicken pieces onto a lined roasting tray and pour the mixture over. Make sure the chicken pieces are coated evenly and skin-side down.
● Roast for 30 minutes. Turn all the pieces around so they are skin-side up, and roast for another 40 minutes, or until cooked through.
Potatoes:
● Cook the chicken and potatoes at the same time. Start by adding canola oil to a large roasting tray and putting it in the oven to heat up.
● While the oil heats up, wash the potatoes and cut them into 4 or 6 pieces depending on their size.
● Mix the flour with a big pinch of salt and pepper. Toss the potatoes through the flour and dust off any excess. Remove the roasting tray from the oven and carefully place the dusted potatoes into the oil. Top them the rosemary sprigs.
● Roast the potatoes for about an hour or until they are crispy on the outside and soft on the inside. Turn the potatoes after 30 minutes, then again 15 minutes later.
● Once the potatoes are cooked, remove them from the oven. Put them onto a paper towel to drain any excess oil and season with salt and pepper.
Serve the chicken hot with crispy potatoes on the side.