Spicy mango chutney baked chicken with roasted red onion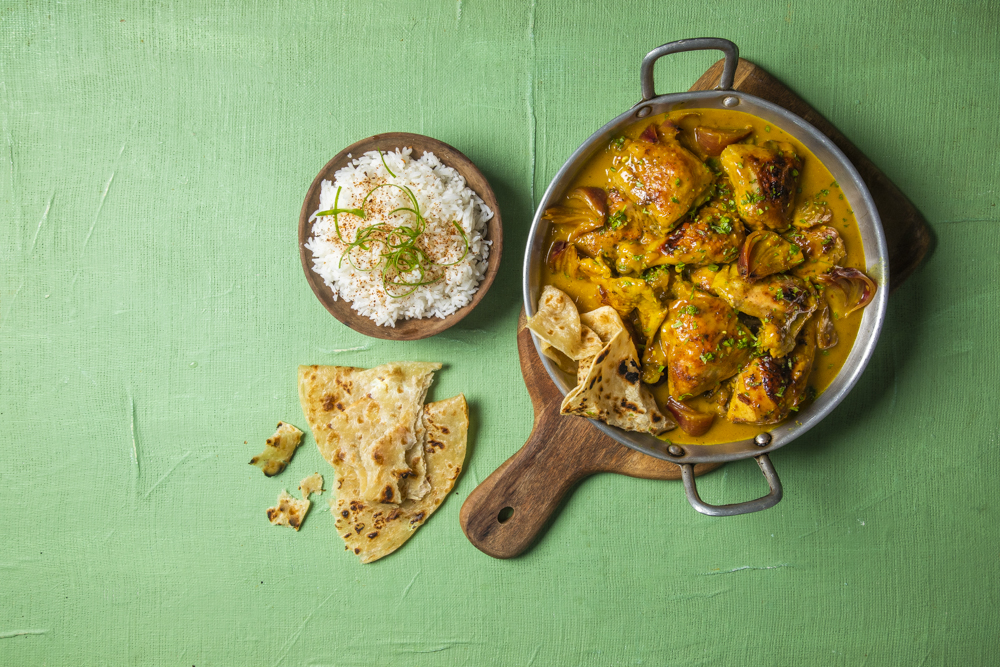 Prep time
20min

Cook time
1h:30min

Serves
8
Craving the sweet and tangy flavours of tropical fruit mixed with the slight char from the braai?
Then this recipe is sure to hit the spot!
Ingredients:
16 chicken pieces braai pack
Salt and milled pepper
3 red onions, sliced into wedges (8-10pcs per onion)
3 Tbsp (45ml) canola oil
3 Tbsp (45ml) garlic, chopped
3 Tbsp (45ml) ginger, chopped
1 tsp (5ml) red chilli, deseeded and finely chopped
2 Tbsp (30ml) curry powder
2 Tbsp (30ml) turmeric powder
1 cup (250ml) chicken stock
2.5 cups mango chutney
1 cup (250ml) mayonnaise
¼ cup (60ml) lemon juice
1/3 cup (80ml) Worcestershire sauce
Method:
Preheat the oven to 180°C.
Place the chicken pieces in a casserole dish, skin side up, and season generously with salt and pepper. Arrange the red onion wedges between the chicken.
Heat a pot on the stove over medium heat. Add the oil.
Add the garlic, ginger and chilli. Sauté for 5 minutes, stirring constantly, ensuring it does not burn.
Add the curry powder and turmeric. Sauté for a further 3 minutes until aromatic.
Add the chicken stock, mango chutney, mayonnaise, lemon juice and Worcestershire sauce.
Bring to a simmer, then remove from the heat.
Pour the sauce evenly over the chicken. Cover with a lid or tin foil and place in the oven.
Roast for 1 hour. Remove the foil, then roast for a further 30 minutes until cooked through and golden.
Serve the chicken hot, garnished with fresh coriander and served with steamed rice and rotis.