Chilli-chutney chicken thighs with sweet potato rounds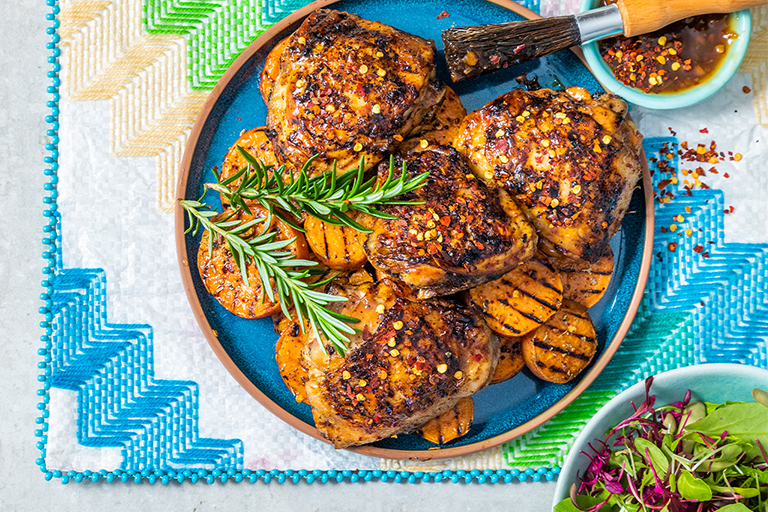 Prep time
30min

Cook time
40min

Serves
4
This recipe makes for a hot new twist on chutney braai chicken!
Ingredients:
Chicken: 
1 x pack chicken thighs
15ml olive oil
2 garlic cloves, finely chopped
2 red chillies, deseeded and finely chopped
30ml red wine vinegar
20ml lemon juice
15ml Worcestershire sauce
200ml fruit chutney
salt and pepper
Sweet potatoes:
500g small sweet potatoes, sliced into 1cm rounds
15ml olive oil
10ml chilli flakes
15ml lemon juice
5ml dried thyme
salt and pepper
Method:
Chicken:
Heat the oil over a low heat. Add the garlic and chilli, and sauté until soft, but not coloured.
Deglaze with the vinegar, lemon juice, and Worcestershire sauce. Add the chutney.
Bring to a boil and then remove from the heat. Allow to cool to room temperature.
Season the chicken pieces with salt and pepper. Generously brush with the chutney mix.
Grill on the braai over a medium heat, turning and basting occasionally. Make sure the chicken colours nicely, but doesn't burn. This takes about 20 minutes.
Sweet potatoes:
Blanch the sweet potato rounds in salted water until al dente. Be sure to not to cook them fully.
Mix the olive oil, chilli flakes, lemon juice, thyme, salt and pepper together. Toss this mixture over the sweet potato pieces.
Grill the sweet potatoes over a medium-high heat on the braai. They should char well and soften.
Serve the sweet, sticky chicken with the charred sweet potatoes on the side.