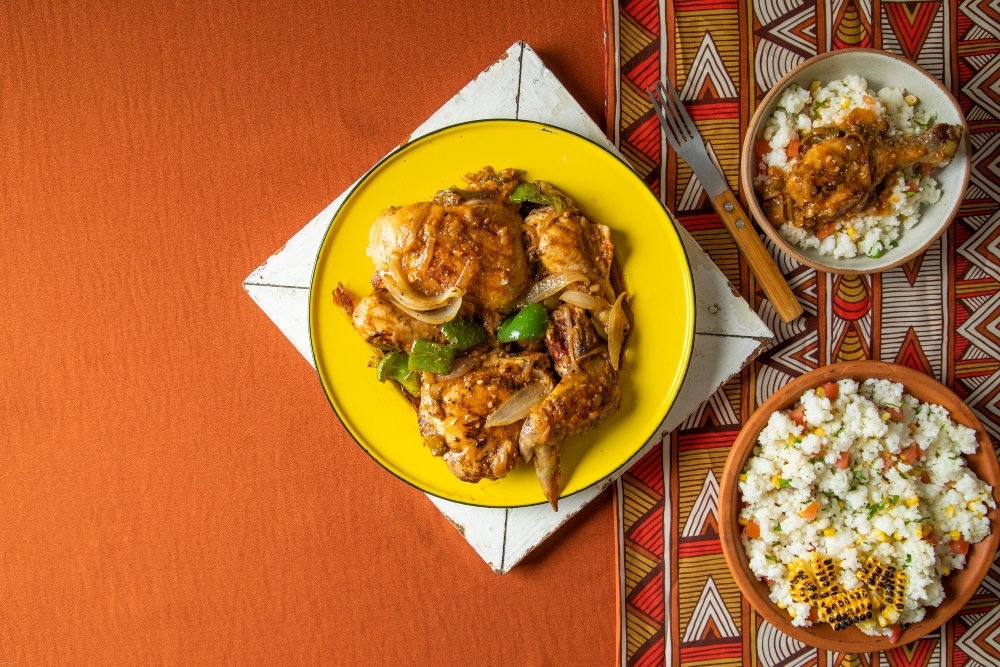 Prep time
25min

Cook time
40min

Serves
6
Inspired by the popular West African dish, using simple ingredients to bring you the perfect family meal.
Ingredients:
8 Pieces Goldi Mixed Portions
2 Tbsp (30ml) dried herbs
1 Tbsp (15ml) vinegar
Juice of 1 lemon
4 Tbsp (60ml) oil
1 onion, sliced into eight
1 green pepper, sliced
1 chilli, diced
4 garlic cloves, sliced
2cm of ginger, peeled and sliced
1 Tbsp (15ml)  tomato sauce
For the side
1 cup (150g)  mielie meal, soaked overnight
1 can (410g) corn kernels, drained or 2 blanched whole corn, blanched and kernels removed
1 tomato, diced
½ cucumber, sliced
To serve, parsley roughly chopped (optional)
Method:
In a bowl, combine dried herbs, vinegar, lemon juice and 1 tablespoon of oil and marinate the chicken for 30 minutes to 2 hours.
Heat the remaining oil in a frying pan, pat the chicken dry and sear for 8 minutes, turning halfway.
Remove chicken from the pan, add onions and caramelise for 5 minutes.
Add green pepper, chilli, garlic, ginger, and tomato sauce.
Add a splash of water if the onions are burning.
Add chicken with marinade to the pan, nestling between onions and peppers, and add one cup of water.
Let the chicken simmer covered until cooked for about 20 minutes.
In the meantime, prepare the maize rice: Rinse and drain maize rice.
Bring water and salt to a boil in a medium pot.
Add maize rice and stir with a fork. Bring to a boil and cover with a lid.
Turn down the heat and simmer for about 40 minutes or until cooked, stirring occasionally.
Let maize cool before adding the rest of the salad ingredients.
Serve with chicken.