Tomato and chicken soup, with mozzarella and basil toasties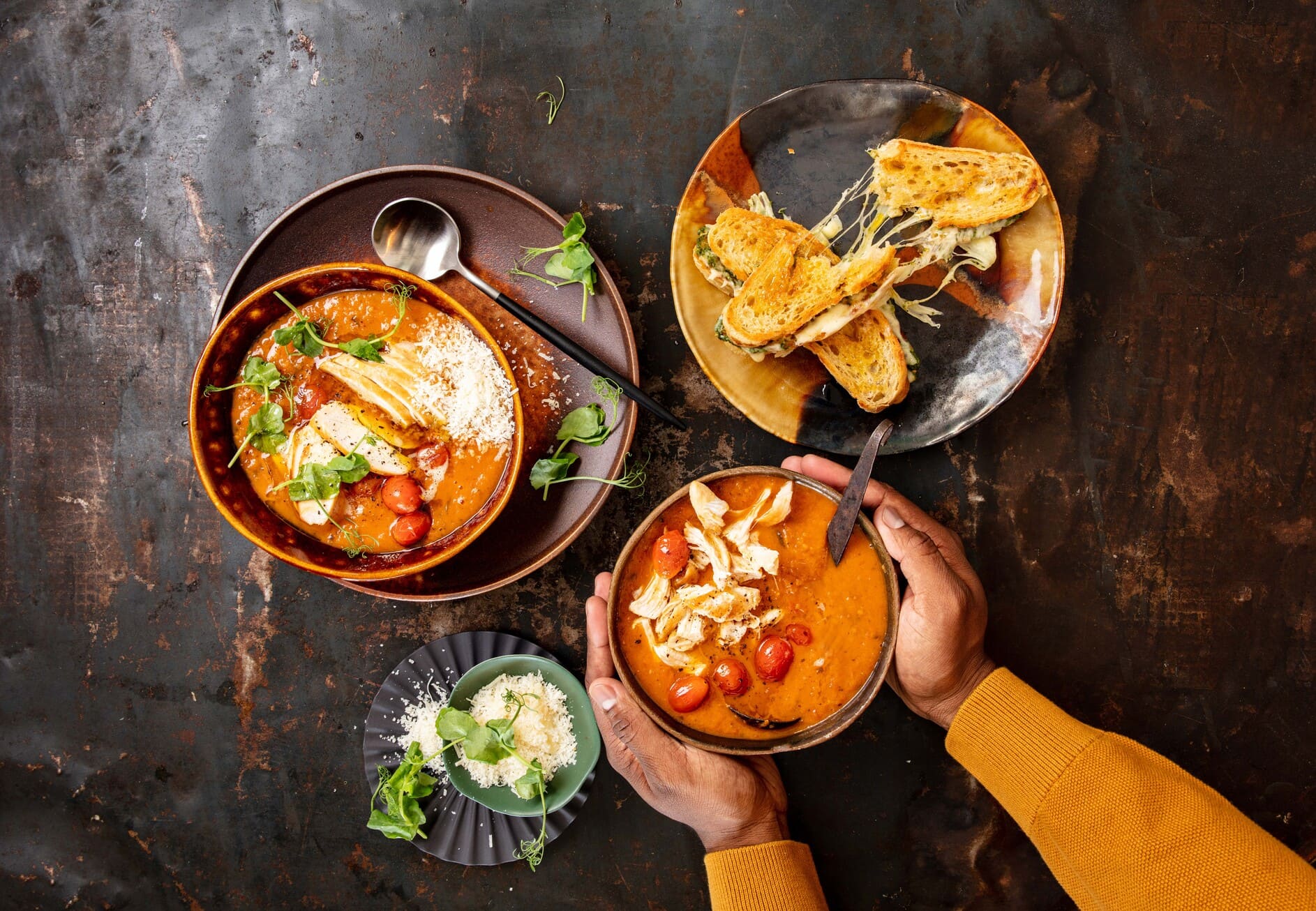 Prep time
15min

Cook time
1h:10min

Serves
4
We've given this classic comforting combo a worthy update.
Ingredients:
4-5 salad tomatoes, quartered
½ punnet (250g) cherry tomatoes
2 red onions, quartered
4 garlic cloves, sliced
2 Tbsp (30ml) brown sugar
Handful of each fresh coriander and basil
¼ cup (60ml) olive oil
2 Tbsp (30ml) butter
1 can (400ml) tomato puree
½ cup (125ml) chicken stock
1 cup (250ml) cream
2 Tbsp (30ml) freshly chopped coriander
Squeeze of fresh lemon juice
4 skinless chicken breast fillets
Mozzarella and basil toasties:
8 slices ciabatta bread
2 Tbsp (30ml) basil pesto
1 cup (250ml) grated mozzarella
Salt and milled pepper
Fresh basil, grated parmesan and pea shoots, to serve
Method:
Preheat the oven to 180°C.
Place the tomatoes, onions and garlic in a deep baking dish. Sprinkle with brown sugar, coriander and basil. Drizzle with some of the olive oil, add butter and season well.
Roast for 25-20 minutes or until golden. Cool slightly.
Add the mixture into a blender and blitz until smooth.
Pour the mixture into a pot, add the tomato puree and stock and simmer for 20 minutes, stirring frequently.
Add cream, and freshly chopped coriander and simmer over low heat for another 5 minutes.
Season well and add lemon juice.
Heat the remaining oil in a large pan and season chicken breasts. Sear for about 6-7 minutes per side until golden. Slice into thick chunks and set aside.
Mozzarella and basil toasties:
Place ciabatta slices onto a baking tray and spread generously with basil pesto and top with mozzarella cheese. Season and bake for 3-5 minutes until cheese has melted.
Ladle soup into bowls and stir through a handful of sliced chicken.
Sprinkle over parmesan and garnish with fresh sage, basil or pea shoots. Serve with parmesan and basil toasties.