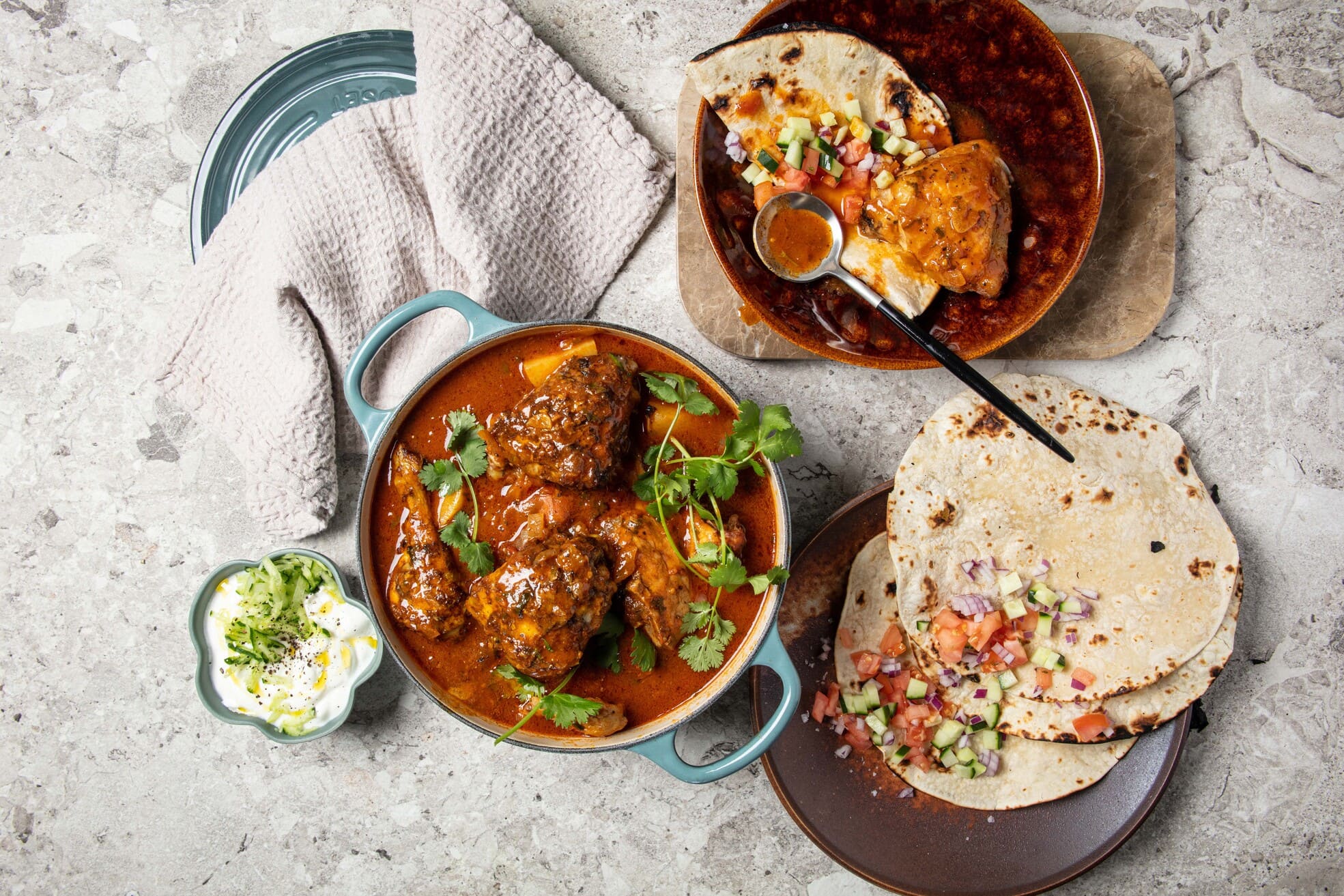 Prep time
20min

Cook time
60min

Serves
4
Tikka is an Indian word referring to a dish of small pieces of meat or vegetables marinated in a spice mixture. Try our take on this famous favourite recipe.
Ingredients:
1 x County Fair chicken braai pack 10 pieces
Salt and milled pepper
3 Tbsp (45ml) tikka chicken paste
Glug olive oil
2 onions, chopped
3 Tbsp (45ml) medium curry powder
3 garlic cloves, sliced
1 Tbsp (15ml) freshly grated ginger
3-4 whole tomatoes, chopped
1 Tbsp (15ml) tomato paste
2 tsp (10ml) brown sugar
2 cups (500ml) chicken stock
4 potatoes, peeled and chopped
Handful of fresh coriander, chopped
Juice (60ml) of 1 lemon
Plain roti
Red onion and tomato sambal
Method:
Season the chicken with salt and pepper.
Rub with the tikka chicken paste, making sure to coat evenly.
Heat the olive oil in a pot and fry onions for 3-4 minutes.
Add the curry powder and fry for another 3-4 minutes.
Add the garlic, ginger and chopped tomatoes and fry for about 5-6 minutes.
Add the tomato paste and brown sugar and fry for another 2 minutes (add a splash of water if necessary).
Add the marinated chicken and stock and cover with a lid. Simmer for 15 minutes over medium heat.
Add the potatoes and fresh coriander and simmer for a further 20-25 minutes or until the chicken and potatoes are cooked through.
Season well, stir through freshly chopped coriander and lemon juice.
To serve:
Serve with flaky roti or charred pitas, sambals and cucumber yoghurt if preferred.