Chicken Wing and Pineapple Skewers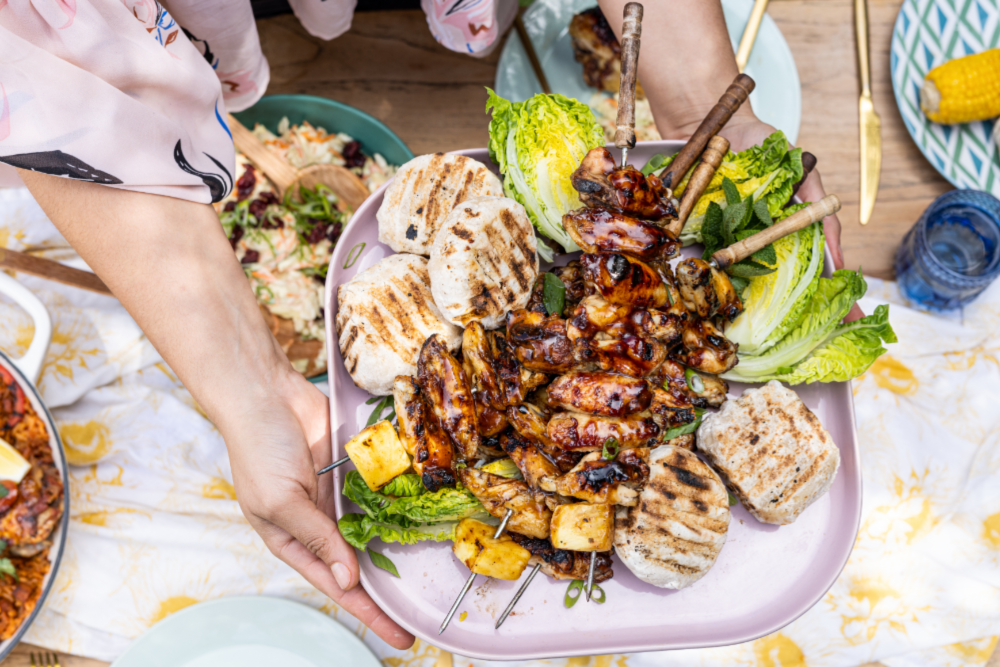 Prep time
1h:30min

Cook time
20min

Serves
6
A bit of sweet, a bit of salty, a whole lot of yum! These skewers are a must-make.
Ingredients:
Ingredients:
16 chicken wings, tips removed and winglets cut in two at the joint
4-8 pineapple chunks
Pineapple glaze
2 cups (500ml) pineapple juice
¼ cup (60ml) soy sauce
2 Tbsp (30ml) tomato sauce
2 garlic cloves, crushed or 1 tsp garlic powder
1 tsp (5ml) ground ginger or 1 tsp finely chopped fresh ginger
2 Tbsp (30ml) lemon juice or vinegar
1 Tbsp (15ml) cornflour, dissolved in 3 Tbsp (45ml) water
Spring onion, chilli for serving
Method:
Mix all the marinade ingredients together, barring the cornstarch.
Pour ¼ of the marinade over the wings and leave to marinate for 1 hour at least.
Meanwhile, heat the rest of the mixed marinade in a small saucepan, simmer for 5 minutes, then add the dissolved cornstarch. Cook for 3-4 minutes or until thickened.
Thread the wings onto skewers - if you have large metal skewers 8 winglets should fit on.
Finish the skewer off with a generous piece of pineapple.
Pop the skewers onto the grill and grill, basting with the thickened marinade as it cooks.
It should take about 15-20 minutes until the winglets are cooked through.
Serve scattered with chopped spring onion, chilli and fresh coriander.