Sticky honey, mustard, and chilli chicken with grilled peaches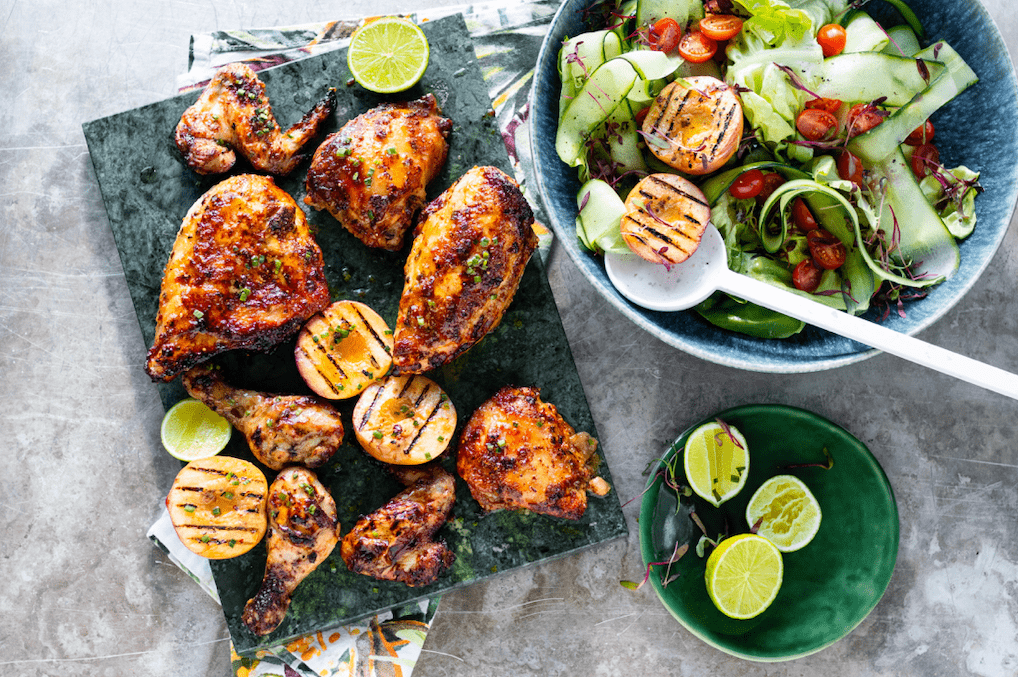 Prep time
15min

Cook time
45min

Serves
6
Can't find peaches? Any stone fruit will work for this mouth-watering braai recipe.
Ingredients:
1 x chicken braai pack 2 Tbsp dijon mustard 2 Tbsp wholegrain mustard or mustard seeds ¼ cup honey 3 Tbsp olive oil 2 Tbsp chilli flakes (smoked or regular) a handful of fresh chives, snipped ¼ cup butter 3 garlic cloves, chopped 1 punnet peaches, halved 1 packet fresh rocket or butter lettuce ½ cucumber, shaved into ribbons 1 punnet cherry tomatoes, halved lemon or lime wedges, for serving salt and pepper
Method:
Season the chicken generously with salt and pepper.
Mix the mustard, honey, olive oil, chilli flakes, and chives together until smooth.
Pour the mustard marinade over the chicken pieces and toss together to coat evenly.
Place the butter and garlic into a small cast-iron pan or pot. Place over low coals to melt the butter.
Place the chicken onto a braai grid.
Braai over medium coals for about 35-45 minutes or until cooked through and golden.
Add the reserved mustard marinade to the melted garlic butter and mix well. Use this mixture to baste the chicken continuously while you're braaiing. Rotate the chicken while basting on the fire to ensure even cooking.
Brush the peaches with basting sauce and grill them cut side down on the braai until lightly charred.
Combine the rocket, cucumber, tomatoes, and grilled peaches in a bowl.
Drizzle with olive oil and lemon juice. Season well.
Serve your braai chicken with salad and extra lime or lemon wedges.