Chicken over 'krummelpap'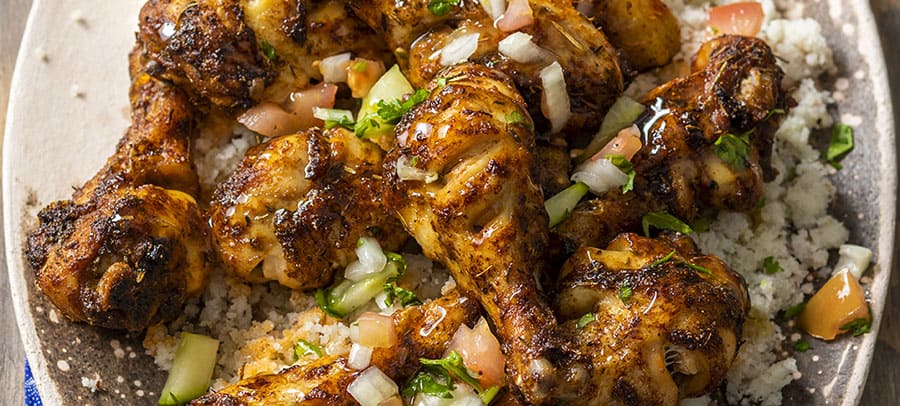 Prep time
20min

Cook time
45min

Serves
6
Making slashes in the chicken ensures that the meat absorbs all the spice flavours. Serve over pap at your next braai.
Ingredients:
Ingredients:
10 chicken drumsticks
1 tbsp paprika
1 tsp cayenne pepper
1 tsp cumin
1 tbsp dry mixed herbs
3 tbsp oil
Salsa
2 salad tomatoes, chopped
½ onion, chopped
½ cucumber, chopped
Handful of coriander, chopped
¼ cup canola oil
3 tbsp vinegar or lemon juice
1 tsp sugar
Krummelpap
1½ cups water
1 tsp salt
3 cups maize meal
Method:
Preheat the oven to 180°C.
Slash the chicken drumsticks three times on each side.
Mix all the chicken ingredients together and place on a baking sheet. Roast for 30 minutes.
For the salsa, mix all the ingredients in a bowl and chill for 15 minutes before use.
For the pap, bring salted water to a boil in a large pot. Sprinkle maize meal in, cover, and simmer for 15 minutes.
Stir with a fork to produce a crumbly texture. Cover and simmer for 30 minutes.
Serve with chicken.