Coca-Cola BBQ roasted chicken with cornbread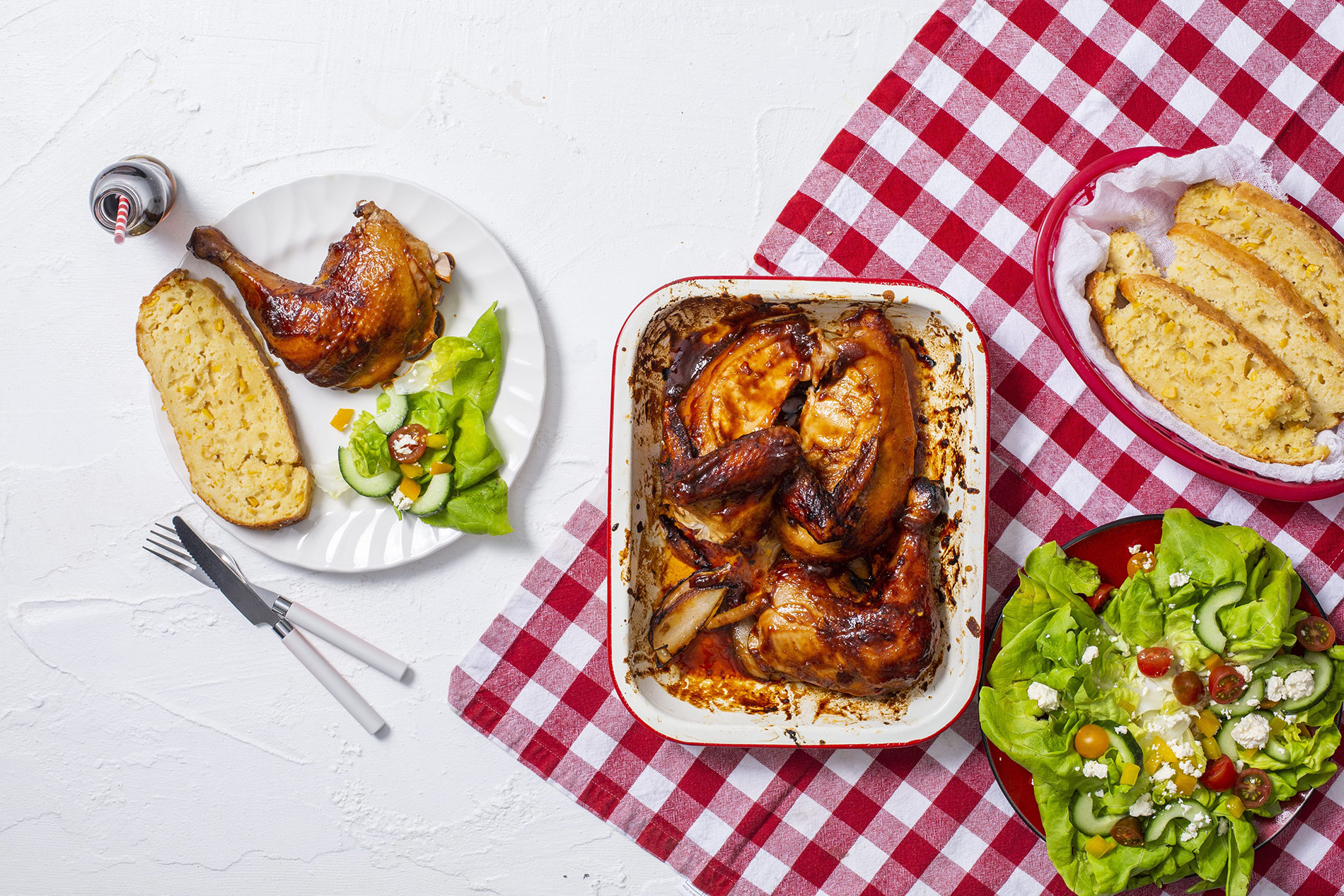 Prep time
60min

Cook time
90min

Serves
6
You'll never buy store-bought barbeque sauce again. This Coca-Cola version is delicious!
Ingredients:
1 x Goldi chicken hardbody
1 x 340ml Coca-Cola
1 cup tomato sauce
1tsp chili flakes or 1 chilli, sliced
1 onion, quartered
Cornbread Ingredients:
1 cup mielie meal
1½ cup bread flour
2 tsp baking powder
1 tsp salt
2 tsp paprika
1 cup Amasi
¼ cup oil
1 egg
1 can creamed corn or 1½ cup corn kernels
Method:
Preheat the oven to 170°C
In a saucepan, combine Coca-Cola, tomato sauce, and chilli.
Bring the BBQ sauce to a gentle simmer, stirring so that it doesn't catch. Reduce by half (this takes about 10–15 minutes on a medium heat).
Place chicken and onions in a baking dish. Pour over the BBQ sauce
Roast for 30 minutes, basting halfway.
Cover with foil after 30 minutes and cook for a further 45 minutes, basting halfway. (For every 1kg of chicken, roast for 50 minutes.)
Serve with cornbread and salad.
Cornbread:
Grease a medium-sized bread tin (25cm x 7.5cm).
Combine all the dry ingredients in a large mixing bowl.
Mix the amasi, milk, egg, oil, and corn.
Make a well in the centre of your dry ingredients. Pour your wet mixture into the centre, gentle stirring to combine.
Spoon batter into a bread tin and smooth over the top.
Bake for approximately 60 minutes. The bread is done when a skewer comes out clean.
Allow the bread to cool slightly before turning it out on a cooling rack.