Marmalade-and-thyme chicken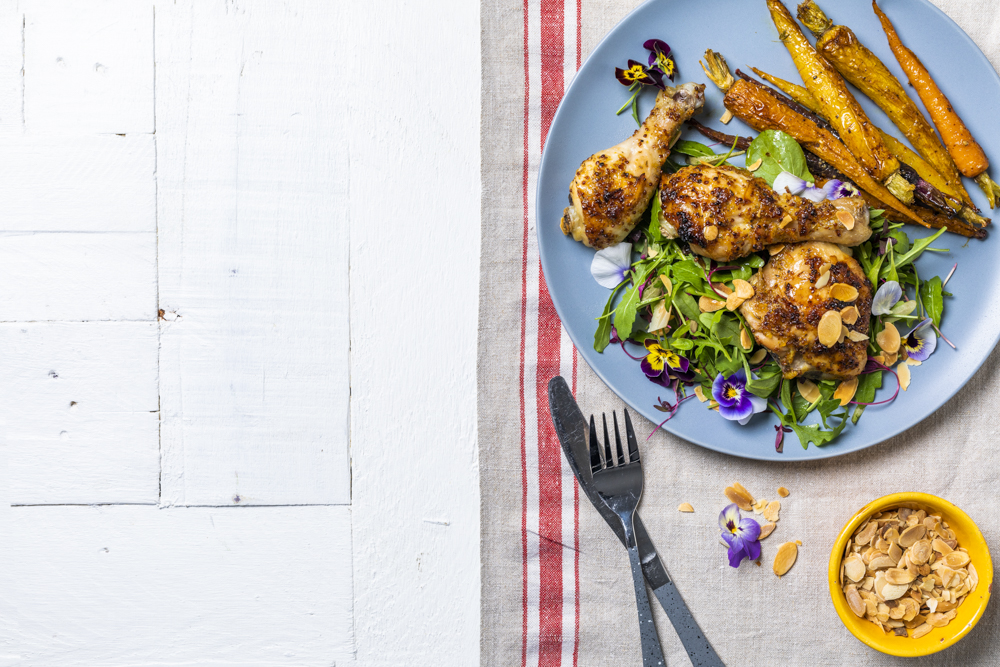 Prep time
15min

Cook time
60min

Serves
6
Marmalade and thyme makes for glossy chicken that bursts with flavour.
Ingredients:
Chicken:
6 chicken star pack
15ml olive oil
80ml orange marmalade
30ml lemon juice
50ml wholegrain mustard
10ml thyme
salt and pepper
Carrots:
18 baby carrots, cleaned
15ml olive oil
15ml orange juice
1 clove garlic, minced
4 sprigs thyme
50g almond flakes
salt and pepper
Method:
Chicken:
- Preheat the oven to 170°C.
- Line a roasting dish with foil and place the chicken pieces on it. Season with salt and pepper.
- Mix together the olive oil, orange marmalade, lemon juice, mustard and thyme. Pour this over the chicken and toss. Make sure all the chicken pieces are skin-side up when roasting.
- Place in the oven and cook for 1 hour, or until cooked through.
Carrots:
- Place the carrots on a baking tray.
- Mix the olive oil, salt, pepper, orange juice, garlic and thyme together. Pour over the carrots.
- Place the carrots in the oven with the chicken.
- Roast until soft and caramelised (about 45 minutes), tossing halfway.
- Place the carrots on a serving dish and top with the roasted almonds.
Serve the chicken hot with the roasted carrots on the side.