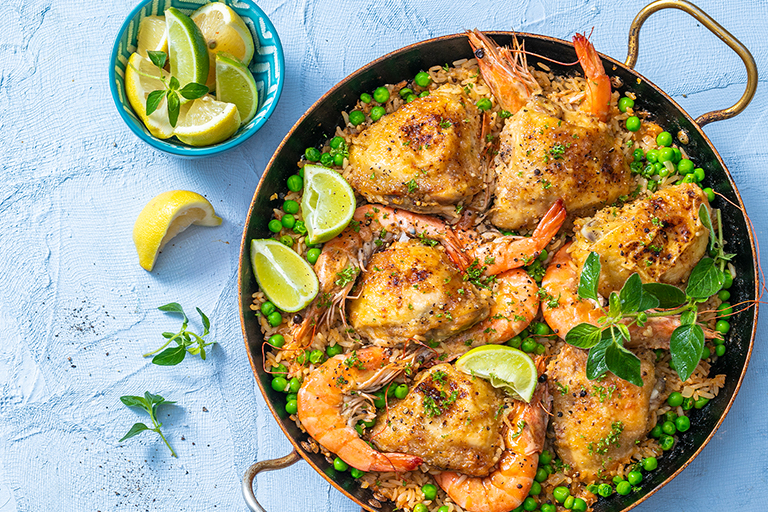 Prep time
30min

Cook time
60min

Serves
4
Pretend you're in Valencia, Spain when you tuck into this bowl of comfort food.
Ingredients:
8 chicken thighs

5ml BBQ spice

salt and pepper15ml cake flour

30ml olive oil

1 onion, finely chopped

4 garlic cloves, crushed

2 litres chicken stock

5ml smoked paprika

300ml long-grain rice

250ml frozen peas

60ml parsley, finely chopped

12 large king prawns

40g butter

lemons

fresh parsley, to serve
Method:
Preheat your oven to 190°C.

Season the chicken with barbeque spice, salt and pepper, and dust with flour. Drizzle with half the olive oil and place on an oven tray.

Roast in the oven for about 30 minutes until the chicken is cooked and golden brown. Keep warm and reserve all the pan juices.

Meanwhile, heat the rest of the oil in a large metal casserole dish (use for serving, if possible).

Cook the onion and garlic until soft. Add the chicken stock, smoked paprika, and rice. Cook on a medium heat for about 20 minutes, stirring occasionally, until the rice is cooked.

Add the peas, chopped parsley, chicken, and pan juices. Cover with a lid and cook on very low heat for about 10 minutes.

Melt the butter in a frying pan and cook the prawns on both sides until they turn pink and caramelised. Season.

Place the prawns on top of the paella and drizzle with lemon juice.

Serve with fresh lemon wedges, more chopped parsley, and aioli.