Chicken Kiev with mustard mayo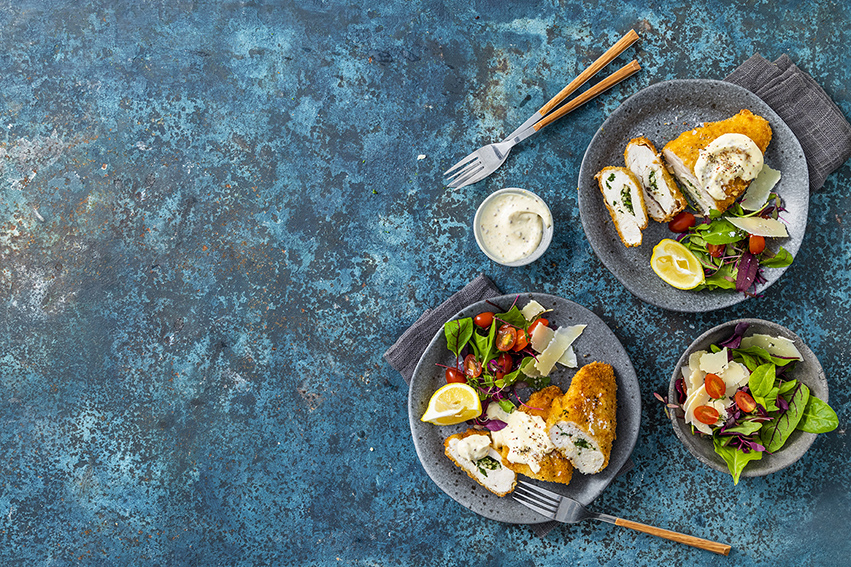 Prep time
120min

Cook time
30min

Serves
4
Chicken Kiev may sound complicated, but it's straightforward to make and a real crowd-pleaser.
Ingredients:
30g butter, softened
2 garlic cloves, minced
30ml parsley, finely chopped
4 chicken breasts
125ml flour
2 eggs, whisked
2 cups panko bread crumbs
100ml canola oil
salt and pepper
For the mayonnaise:
1 cup mayonnaise
15ml wholegrain mustard
15ml Dijon mustard
15ml lemon juice
For the salad:
45g rocket
Parmesan, shaved
10 cherry tomatoes, halved
lemon dressing
Method:
Mix the butter, garlic, parsley together. Season with salt and pepper, and roll into a sausage in cling wrap. Place in the fridge to chill until firm – about 1 hour.
Start preparing the chicken breasts. Place them on a chopping board and make an incision on the side of each to form a pocket for the butter.
Slice the butter into 8 discs. Place 2 slices into each chicken breast 'pocket'.
Dip each stuffed chicken breast in the flour; then in the eggs; and lastly in the panko crumbs, covering each breast evenly with the different layers. Place them on a tray and chill for at least an hour.
Preheat the oven to 180°
Place the oil in a large pan over medium-high heat.
Fry the chicken for 2 minutes on each side, until golden. Place them back on the tray and bake in the oven for about 20 minutes, or until cooked through.
While the chicken is cooking, mix all the mayonnaise ingredients together.
Mix all the salad ingredients together.
Serve the warm Chicken Kiev with the mayonnaise and salad on the side. Delicious!