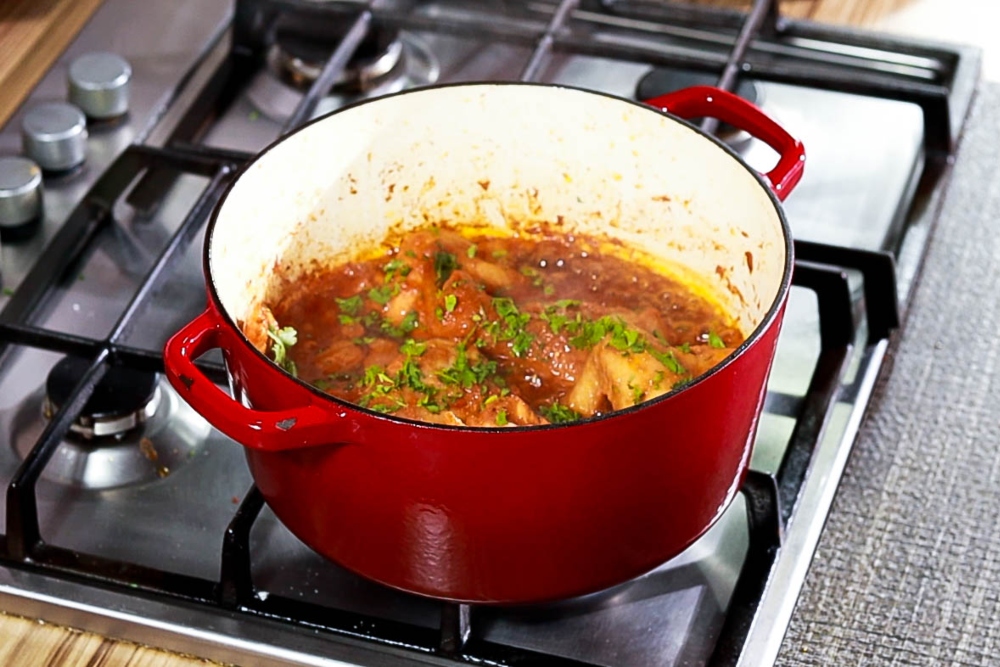 Prep time
15min

Cook time
35min

Serves
5
Curry in a hurry – this hearty meal is ready in no-time.
Ingredients:
3 Tbsp (45ml) vegetable oil
1 medium onion, peeled and diced
1 Tbsp (15ml) crushed garlic and ginger
3 Tbsp (45ml) masala medium
500g Goldi chicken pieces
1 medium tomato, peeled and chopped
50g tomato paste
150ml plain yoghurt or Inkomazi (maas)
1 tsp (5ml) sugar
1 tsp (5ml) salt
1 tsp (5ml) black pepper
1 tsp (5ml) ground turmeric
2 cups (500ml) boiling water
1 Tbsp (15ml) chopped coriander
Par-cooked potatoes (optional)
Method:
Heat oil in a large pot and fry the onion.
Add the garlic and ginger, and masala and fry for 5 minutes.
Add the chicken pieces and fry for 10 -15 minutes.
Add chopped tomatoes and tomato paste and stir.
Add yoghurt or Inkomazi and cook over low heat, covered for 15 minutes.
Add the sugar, salt, pepper and turmeric.
Add boiling water, a little at a time, stir and cover.
Lower heat and simmer for 15 minutes.
Set aside for at least 10 minutes for the flavours to settle.
Once ready to serve, garnish with roughly chopped coriander.