Amasi chicken wings with pap-and-corn fritters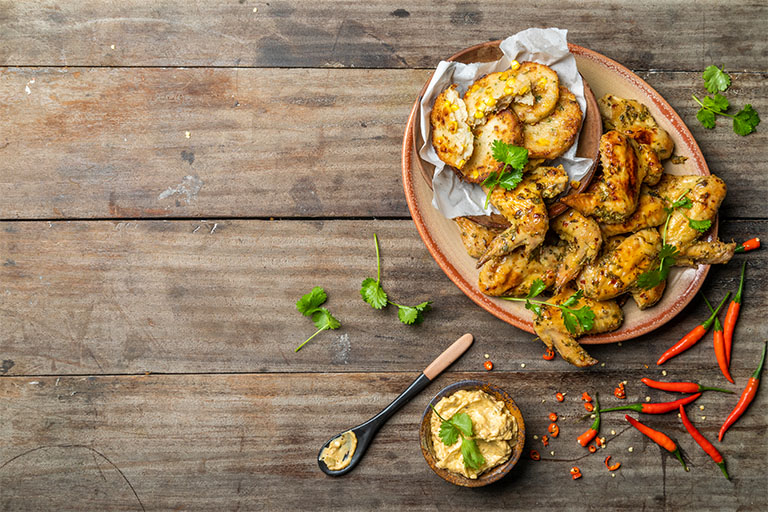 Prep time
60min

Cook time
60min

Serves
2
Ingredients:
Chicken wings:
12 chicken wings
250ml amasi
20g parsley, chopped
20g coriander, chopped
2 garlic cloves, minced
5ml chilli flakes
Pap and corn fritters:
500ml chicken stock
100g maize meal
25ml olive oil
½ onion, finely chopped
1 garlic clove, finely chopped
50ml tinned corn, rinsed
30ml parsley, chopped
salt and pepper
Spicy atchar dressing:
100ml mango atchar
20ml honey
100ml cream cheese
lemon juice
salt and pepper
Method:
Chicken wings:
Mix the chicken with the amasi, parsley, coriander, garlic and chilli.
Leave to marinate in the fridge for at least 6 hours (preferably overnight).
Preheat the oven to 180°
Place the chicken pieces in a baking dish and bake for about 30 minutes until cooked through.
Pap and corn fritters:
Put the stock in a pot on the stove and bring to the boil.
Add the pap, a little bit at a time, whisking continuously until it's all been added.
Reduce the heat to medium, put a lid on the pot, and allow the pap to cook for 10 minutes.
Stir the pap with a wooden spoon and allow to cook with the lid on for a further 5 minutes or until fully cooked.
In a separate pan, heat 10ml olive oil over medium heat. Add the onion and garlic and sauté until soft. Add the corn and cook for a further 2 minutes.
Add this mixture to the pap. Add the herbs and season to taste.
Roll the pap out into a 1.5cm layer and cut out circles, using a ring cutter.
Heat the remaining oil in a pan and panfry the pap fritters until golden and crispy.
Spicy atchar dressing:
Blend all the ingredients together, keeping it all a little bit chunky.
Season with lemon juice, salt and pepper.
To serve:
Serve the chicken wings alongside the pap and corn fritters.
Drizzle with the atchar dressing and top with fresh coriander.