Brined lemon-basted chicken with cheesy roosterkoek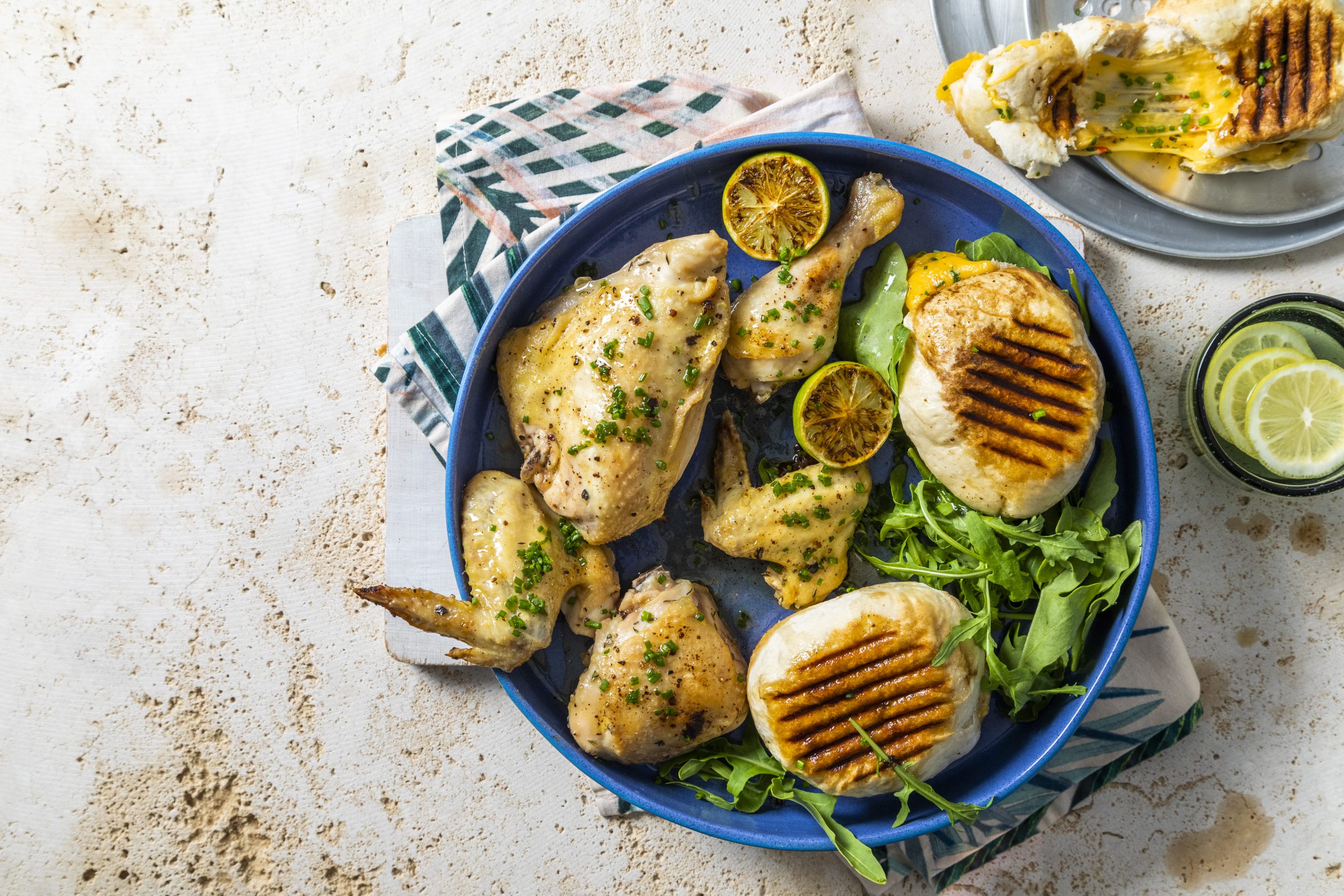 Prep time
1h:30min

Cook time
1h:30min

Serves
4
Brining the chicken overnight produces a much juicier and tender end product.
Ingredients:
Brine:
1 litre water
1 cup coarse salt
½ cup sugar
a handful of fresh herbs
2 lemons, sliced
2 tbsp black peppercorns
1 County Fair braai pack
1 cup melted butter
juice of 1 lemon
Roosterkoek:
1kg store-bought bread dough
2 cups grated cheese
a handful of chives, chopped
2 red chillies, chopped
Method:
Bring water, salt, sugar, herbs, lemon and peppercorns to a boil. Cool.
Brine chicken in mixture for at least 1 hour.
Remove from brine and place onto a greased baking tray.
Brush with a quarter of the butter mixture and roast for 1 hour 15 minutes or until cooked through. Brush with the remaining butter continuously.
Combine cheese, chives and chilli.
Divide dough into 8 balls and flatten slightly to resemble a disc.
Fill each disc with cheese mixture, fold over to enclose, and pinch the seams with your finger.
Cover and leave to rise for 15 minutes.
Braai over medium coals or cook in a hot griddle pan for about 6 minutes or until cooked through.
Serve chicken with cheesy roosterkoek and lemon or lime wedges.
Cook's note:
Fill the roosterkoek with cottage or cream cheese for extra decadence.