Chicken-and-biltong Caesar salad with bokkom dressing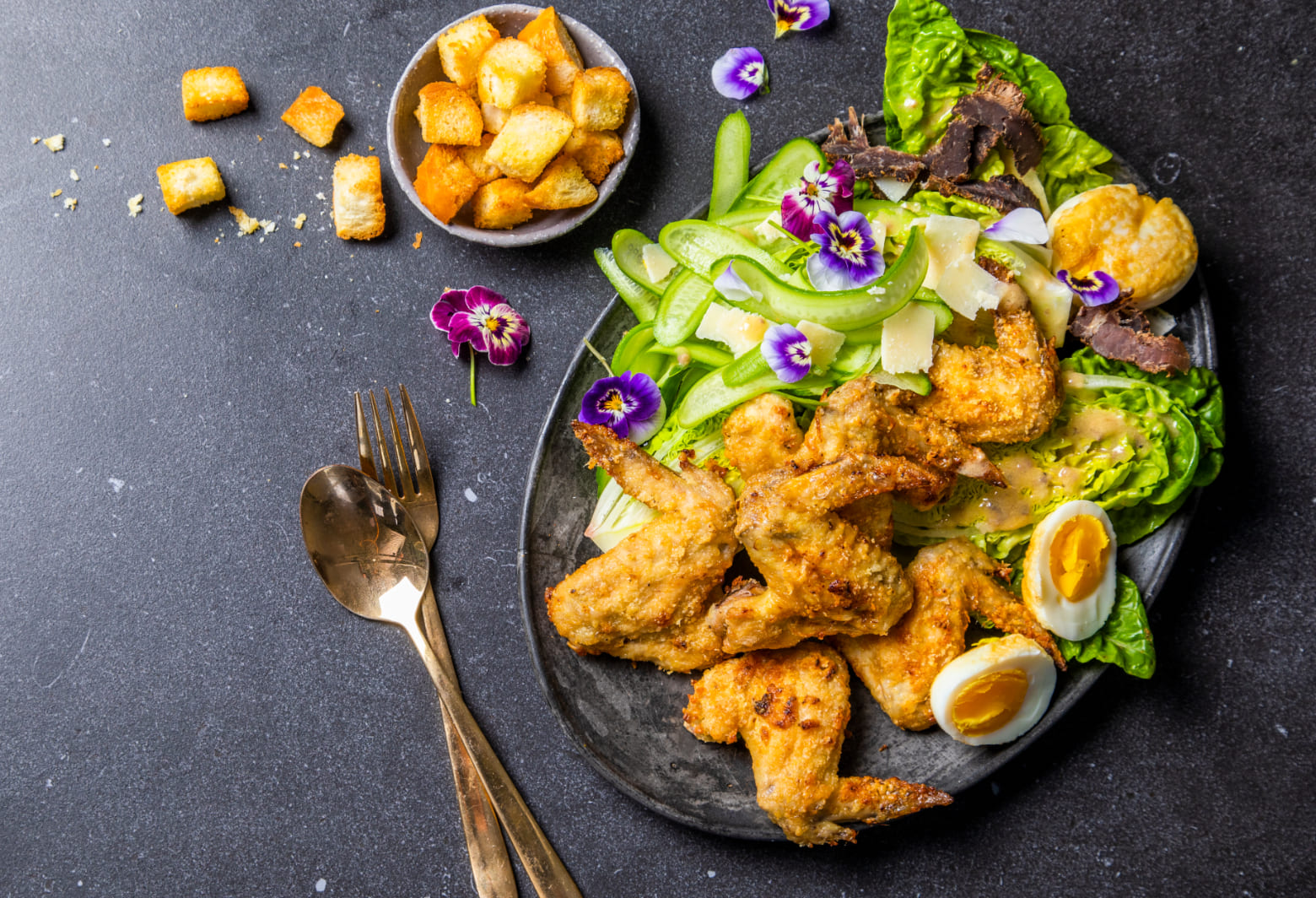 Prep time
45min

Cook time
40min

Serves
2
Celebrate our South African heritage with this tasty salad.
Ingredients:
Chicken wings:
45ml olive oil
30ml lemon juice
7.5ml lemon zest
2 garlic cloves, minced
5ml salt
pepper
8 chicken wings
30ml corn starch
¼ cup parmesan, finely grated
Bokkom dressing:
60ml olive oil
35ml lemon juice
7.5ml Dijon mustard
1 garlic clove, minced
15ml bokkoms, chopped
pinch paprika
pinch pepper
Salad ingredients:
2 baby cos lettuce, leaves trimmed and washed
2 eggs, boiled and halved
4 baby cucumbers, sliced into ribbons
Croutons:
80g biltong slices
parmesan shavings
Method:
Chicken wings:
Preheat the oven to 180°
Mix the olive oil, lemon juice, zest, garlic, salt and pepper. Toss the chicken wings through the mixture.
Spread the chicken wings out and evenly sprinkle with corn starch.
Toss the chicken wings in the dressing once again.
Lay them out on a baking tray lined with baking paper.
Sprinkle the cheese over the wings and bake for approximately 30 minutes, until cooked through and golden.
Bokkom dressing:
Blend all the ingredients together until smooth.
Season to taste.
To assemble:
Divide the lettuce between two bowls.
Place four chicken wings in each bowl.
Top with the boiled eggs, cucumber ribbons and croutons.
Drizzle with the dressing and sprinkle with the biltong slices and parmesan shavings.