Coconut five-spice marinated chicken breasts
Served with Thai slaw and crunchy rice noodles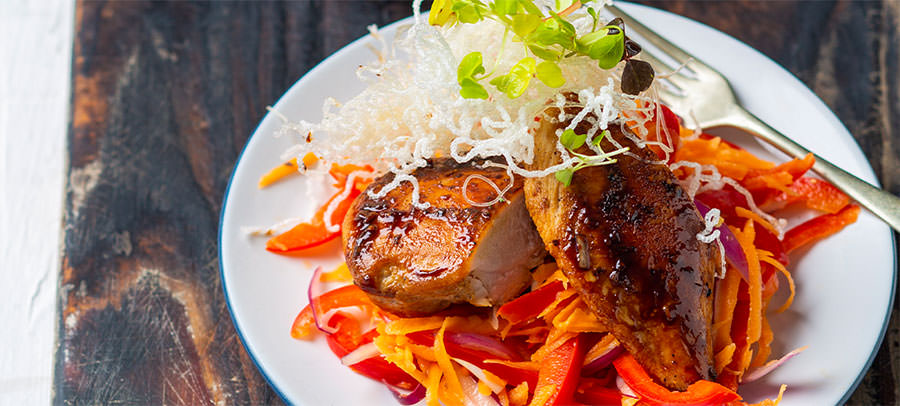 Prep time
30min

Cook time
10min

Serves
4
Using coconut milk in both the dressing and the marinade makes for succulent chicken that's ready in just 40 minutes.
Ingredients:
Dressing
1 tbsp unsweetened coconut milk
1 tsp honey
1 tsp lime juice
1 small red chilli, finely chopped
Marinade
1/3 cup unsweetened coconut milk
2 tbsp honey
1 tbsp lime juice
2 tbsp soy sauce
1 clove garlic, finely chopped
2 1/2 tsp Chinese five-spice powder
1 tsp salt
Thai slaw
4 large carrots, coarsely grated
1 red pepper, deseeded and finely sliced
1 small red onion, finely sliced
1 cup of oil, for shallow frying
100g rice noodles
Method:
To make the coconut-honey dressing, whisk the coconut milk, honey, lime juice and chilli together in a small bowl. Set aside. To make the marinade, mix the coconut milk, honey, lime juice, soy sauce, garlic, five-spice powder and salt in a large bowl.
Add the chicken thighs and coat well. Marinade for 15 minutes. While the chicken is marinating, mix the carrots, red pepper and red onion in a bowl with the coconut-honey dressing. Heat the oil in a pan and fry the rice noodles.
When the rice noodles puff up, remove them from the oil and place onto a kitchen towel to absorb the excess oil. Preheat a grill or grill pan to medium.
Grill the chicken thighs for about 4 minutes on each side, until cooked through. Serve the chicken with the Thai slaw and top with crunchy rice noodles.