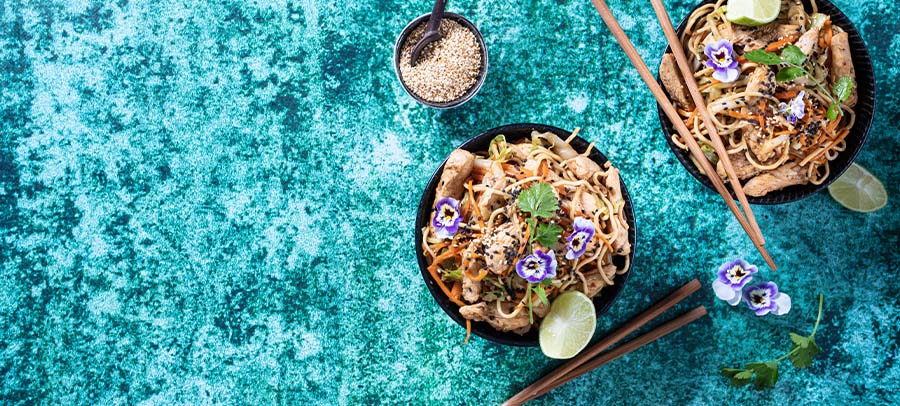 Prep time
25min

Cook time
10min

Serves
4
Chinese stir-fried noodles with chicken makes for a family-friendly lunch or supper.
Ingredients:
Sauce:
2 Tbsp sesame oil
4 Tbsp soy sauce
5 Tbsp oyster sauce
1 Tbsp corn flour
1 Tbsp honey
Chicken:
250g chow mein or yaki soba noodles
2 Tbsp oil
1 x pack of chicken breasts, cut into 1cm-thick slices
2 cups cabbage, shredded
2 carrots, julienned
4 spring onions, sliced at an angle (keep the white and green bits separate)
2 Tbsp garlic, minced
2 Tbsp ginger, minced
5ml sesame seeds
Method:
Whisk all the ingredients for the sauce together and set aside.
Cook the noodles according to the package instructions.
Heat the oil in a large wok or pan on high heat.
Add the chicken and sauté until golden brown and almost cooked through. Set the chicken aside.
Add the cabbage, carrots, whites of the spring onion, garlic, and ginger to the wok. Sauté until slightly softened. Add the chicken and noodles; then pour over the sauce. Toss well and cook for a further 2 minutes.
Serve the chow mein immediately and garnish with the spring onion greens and sesame seeds.