Cheesy chicken enchiladas with guacamole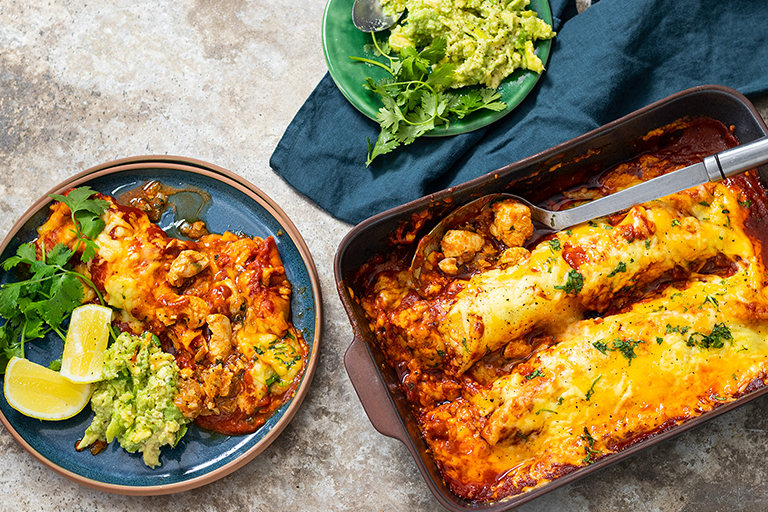 Prep time
15min

Cook time
45min

Serves
4
The trick is the homemade enchilada sauce. You'll end up serving it with everything!
Ingredients:
a glug of olive oil
2 onions, chopped
4 garlic cloves, chopped
1 tsp ground coriander
1 tsp paprika
4 skinless chicken breasts, cubed
a handful of fresh coriander, chopped
salt and pepper
Sauce:
3 Tbsp canola oil
3 Tbsp flour
1 can tomato puree
2 Tbsp paprika
1 tsp ground cumin
1 tsp garlic powder
1 Tbsp light brown sugar
1 cup chicken or vegetable stock
salt and pepper
lemon juice, to taste
For assembly:
4 flour tortillas
1 cup grated cheddar
1 cup grated mozzarella
1 avocado, smashed
a squeeze of lemon
fresh coriander, for serving
Method:
Heat oil in a large pan. Fry onions and garlic until translucent.
Add spices and fry for another minute.
Add chicken and cook for about 3-5 minutes.
Stir through the coriander, season, and remove from pan.
In the same pan, heat canola oil.
Whisk in flour until a smooth roux is created.
Add remaining sauce ingredients and bring to a boil.
Lower the heat and simmer gently for 10 minutes until slightly thickened. Season.
Combine cheddar and mozzarella.
Preheat the oven to 200°C.
Divide the chicken mixture and half the cheese between 4 flour tortillas. Fold to enclose.
Place filled tortillas into a greased oven-proof dish.
Pour over remaining enchilada sauce and top with remaining cheese.
Bake for 15 minutes or until the cheese has melted.
Drizzle with a squeeze of lemon. Serve with smashed avocado and fresh coriander.
Cook's note
: Bulk up the filling with canned beans or leftover roast vegetables.