CHICKEN PITA BREADS WITH PEPPERS & A FETA-YOGHURT DIP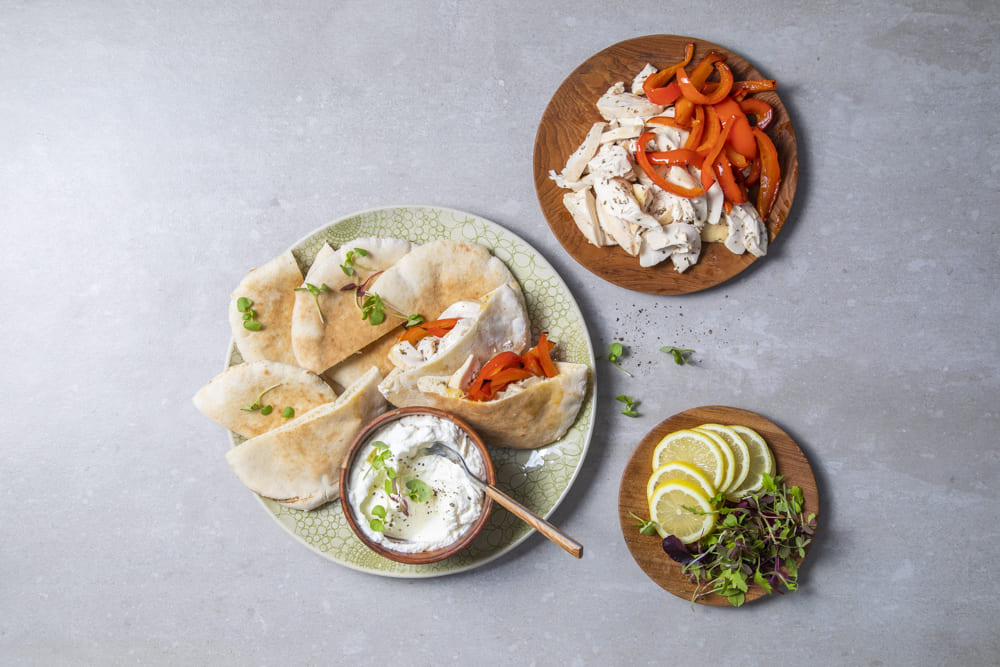 Prep time
20min

Cook time
20min

Serves
4
Keep a packet of pita bread in the freezer to make these in a snap.
Ingredients:
1 x County Fair Skinless Chicken Breasts pack (4 pieces)
1 red pepper, sliced into 1cm thick strips
4 x pita bread
6 Tbsp (90ml) full-fat yoghurt
100g feta
Olive oil
Salt and milled black pepper
Method:
Preheat the oven to 200°C.
Place the chicken breasts and red pepper slices on an oven tray and drizzle with olive oil. Season with salt and pepper.
Roast in the oven for 20 minutes or until cooked through.
In the meantime, prepare the feta-yoghurt dip.
Blend the yoghurt and feta using a stick blender or food processor. Alternatively, crumble the feta and stir through the yoghurt. Add a pinch of pepper and mix well.
Once the chicken has rested for 10 minutes, slice the breasts into ½ cm thick slices.
Warm the pitas in a hot oven for 2 minutes; remove once puffed and slice in half.
Create a pocket in each half, spoon feta-dip into each, and add chicken and a few cooked red peppers. Serve.