Cape Malay chicken biryani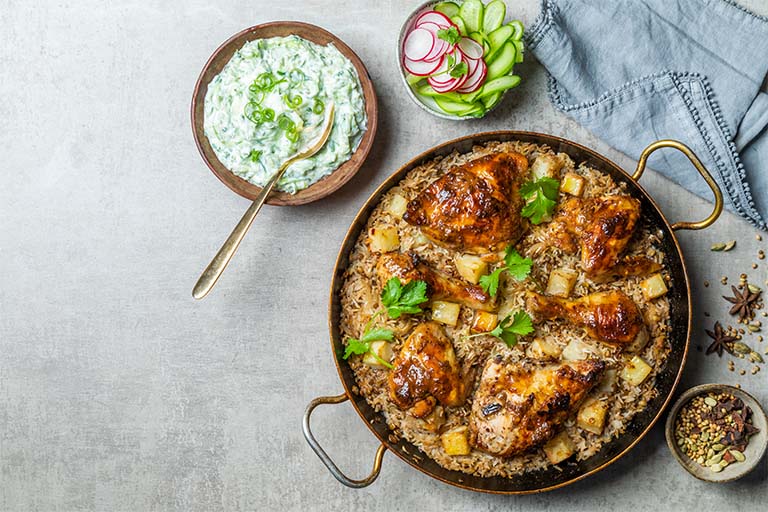 Prep time
30min

Cook time
75min

Serves
4
Ingredients:
Chicken marinade:
2 tsp garam masala
2 tsp coriander seeds
1 tsp cumin seeds
1 tsp chilli flakes
1 tsp ground turmeric
1 tsp cayenne pepper
½ tsp cinnamon
seeds of 4 cardamom pods
3 garlic cloves, grated
2 tsp brown sugar
½ tsp pepper
1 cup plain yoghurt
1 chicken braai pack
Biryani:
15ml olive oil
1 onion, sliced
150g basmati rice
50g brown lentils
3 large potatoes, cut into cubes and parboiled
2 cups chicken stock
Yoghurt cucumber mint raita:
1 cup yoghurt
1 cucumber, grated and drained
15g mint leaves, roughly chopped
15ml lemon juice
zest of 1 lemon
salt and pepper
Method:
Chicken marinade:
Toast and blend all the spices together.
Mix the spices through the yoghurt and pour over the chicken.
Leave the chicken to marinate in the fridge overnight.
Biryani:
Preheat the oven to 170°
Heat the oil in a large casserole and sauté the onion until golden.
Add the rice, lentils and potatoes, and give everything a good stir.
Lay the marinated chicken pieces over the rice mixture, scooping in all the marinade.
Pour the chicken stock over the chicken and place in the oven.
Bake for one hour, stirring halfway through.
Yoghurt cucumber mint raita:
Mix all the ingredients together and season to taste.
To serve:
Place the biryani in a large dish, drizzle with fresh lemon juice, and top with fresh coriander
Serve with a bowl of raita on the side.