Sticky, crispy chicken feet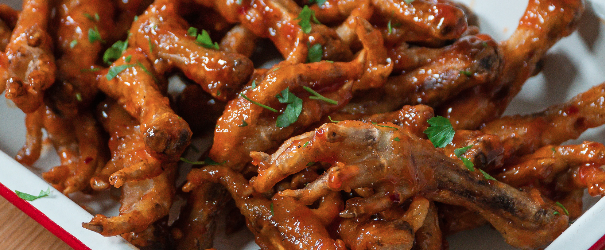 Prep time
5min

Cook time
35min

Serves
6
Would you like to make sticky, crispy chicken feet? Follow our family-friendly recipe for this traditional dish.
Ingredients:
1 bag of Goldi chicken feet
250g flour
2 tbsp BBQ spice
salt and pepper
vegetable oil
Sauce:
100ml tomato sauce
100ml sweet chili sauce
Method:
Boil the chicken feet until they're cooked through. Pat dry.
Coat the feet in seasoned flour and fry until crispy.
Make the sticky sauce by adding both the sauces to a pan and bringing it to the boil.
Pour the sauce over the crispy chicken feet and enjoy.