Chicken nugget skewers
with sweet and spicy tomato chutney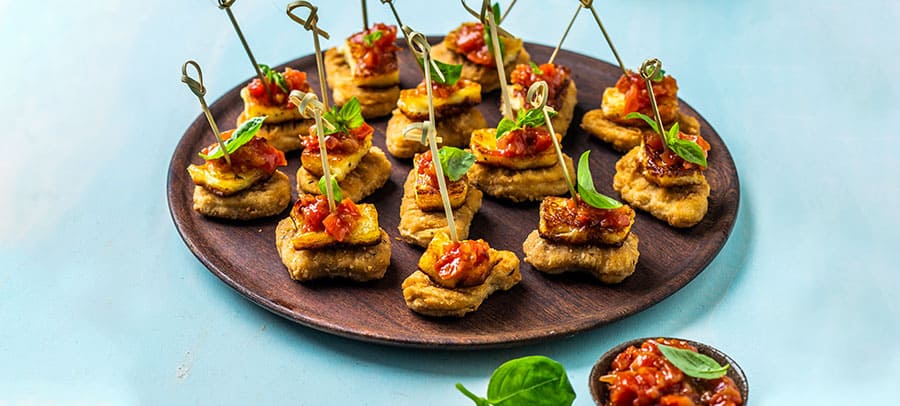 Prep time
5min

Cook time
20min

Serves
10
If you love chicken nuggets, you'll enjoy this delicious take on them. This party favourite is ready in just 25 minutes!
Ingredients:
Tomato chutney
1 tbsp oil
1/2 red onion, finely chopped
200g cherry tomatoes, finely chopped
3 tbsp sweet-chilli sauce
2 tbsp red-wine vinegar
1 tsp chilli flakes
Salt and pepper
1 tsp sugar (optional)
Skewers
1 block of halloumi
Juice of 1/2 a lemon
20 basil leaves
Method:
Cook the chicken nuggets according to packaging instructions.
To make the tomato chutney, fry the onion until soft. Add the tomato, sweet-chilli sauce, red-wine vinegar, chilli flakes, salt and pepper. Simmer for 15 minutes until the mixture thickens. Option: You can add a teaspoon of sugar towards the end according to your taste.
Cut the halloumi into small squares (slightly smaller than the size of the nugget) and fry in a pan until crispy on both sides. Drizzle with a small amount of lemon juice.
To assemble, use a skewer to spike the chicken nugget first and then the halloumi, top with a tiny dollop of tomato chutney and a basil leaf.
Repeat until all skewers are complete and serve.