Buttermilk-fried chicken drumsticks
with cauliflower cheese and mixed salad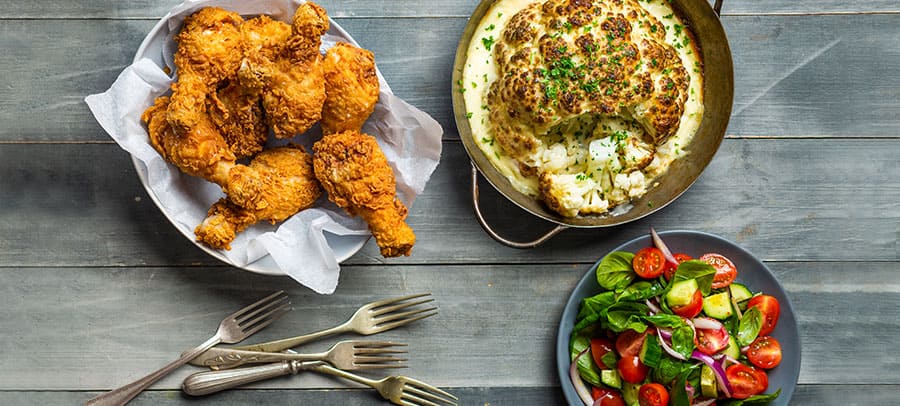 Prep time
60min

Cook time
35min

Serves
4
Marinating chicken drumsticks in buttermilk helps to tenderise the meat. You won't look back!
Ingredients:
8 chicken drumsticks
2 cups buttermilk
1 tsp salt, plus extra for seasoning
Vegetable oil, for frying
Flour
1 cup self-rising flour
1/2 tsp sweet paprika
Freshly ground pepper
1/4 tsp garlic powder
Cauliflower cheese
1 large whole cauliflower
25g butter
25g plain flour
500ml milk
100g cheddar cheese
Salt and white pepper
Mixed salad
1/2 punnet cherry tomatoes, cut into halves
1/4 cucumber, cut into cubes
1/2 red onion, sliced
Small block of feta
1 tbsp olive oil
Squeeze of lemon juice
Method:
Preheat the oven to 180°C.
Toss the chicken, buttermilk and salt in a bowl. Cover and refrigerate for one hour.
Mix the flour, paprika, pepper and garlic powder in a shallow bowl. Remove the drumsticks from the buttermilk, shake off the excess liquid and roll them in the flour mixture.
Deep-fry the drumsticks in hot oil (about 180°C), turning occasionally, for about 10 to 15 minutes or until golden brown and cooked through. You can adjust the heat as needed. Drain the drumsticks on paper towels and season with salt.
Put the cauliflower on the braai or under a hot grill until it is slightly charred but not cooked through.
To make the cheese sauce, melt the butter in a saucepan. Stir in the flour and cook for 1 to 2 minutes. Take the pan off the heat and gradually add the milk, stirring continuously, to make a smooth sauce. Add the cheese and return to the heat, stirring all the time, and bring to the boil. Simmer gently for 8 to 10 minutes and season with salt and pepper.
Place the whole cauliflower in a small roasting tray and cover with the cheese sauce. Bake in the oven for about 20 minutes until the cheese sauce is bubbling and the cauliflower is cooked through.
Make a salad with the cherry tomatoes, cucumber, red onion and feta. Drizzle with olive oil and lemon juice.
Serve the salad with the chicken and cauliflower cheese.