Paprika and chimichurri chicken wings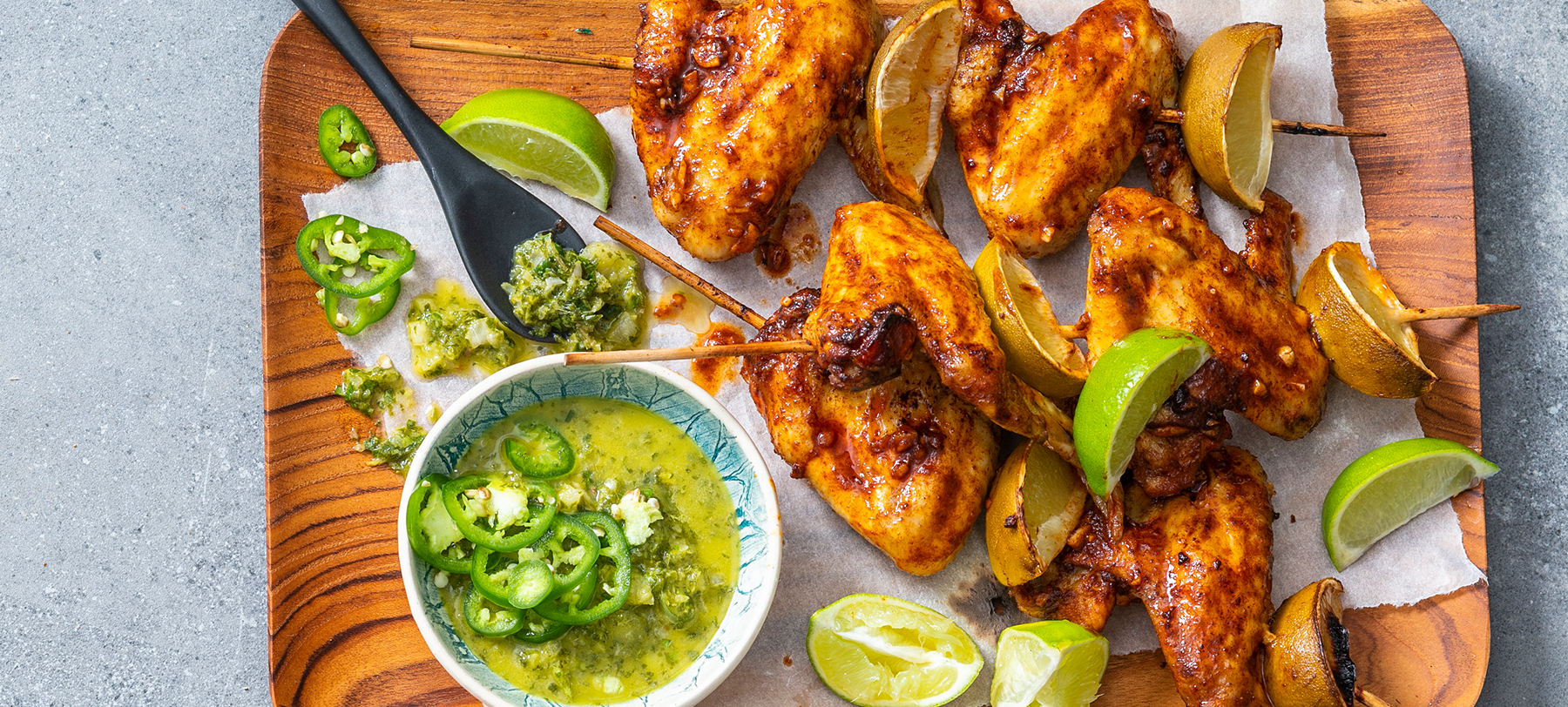 Prep time
24h

Cook time
35min

Serves
4
Use smoked paprika to add a bit of pizzaz to chicken wings and serve with a side of chimichurri sauce.
Ingredients:
2 x 8-piece County Fair chicken wings
3 garlic cloves, coarsely chopped
30ml smoked paprika
2 lemons, zest and juice
80ml olive oil
salt and pepper
16 lime wedges
bamboo skewers, soaked in cold water for 30 min.
Chimichurri dipping sauce:
30ml onion, finely chopped
30ml red wine vinegar
1 small green chili, deseeded
1 garlic clove, crushed
15g flat-leaf parsley, stalks removed
15g coriander, stalks removed
5g oregano leaves
60ml olive oil
5ml honey
Salt and pepper
Method:
Preheat the oven to 190°C.
Combine the garlic, smoked paprika, lemon zest, lemon juice and half the olive oil in a small bowl and season to taste.
Pour over the chicken wings and leave to marinate overnight in a large resealable bag.
Place two marinated wings on a skewer with a lime in the middle. Repeat to make eight skewers.
Line a large baking tray with foil and use the remaining olive oil to coat the bottom of the tray.
Place the skewers on the baking tray and bake in the oven for about 30 minutes or until the chicken is cooked and golden brown.
While the skewers are in the oven, prepare the chimichurri sauce by blending all the ingredients together with a stick blender. Taste and adjust the seasoning. (Note: This sauce will last for a week in the fridge.)
Serve the chicken skewers with the chimichurri dipping sauce.