Tray-baked rosa tomato, olive and pancetta chicken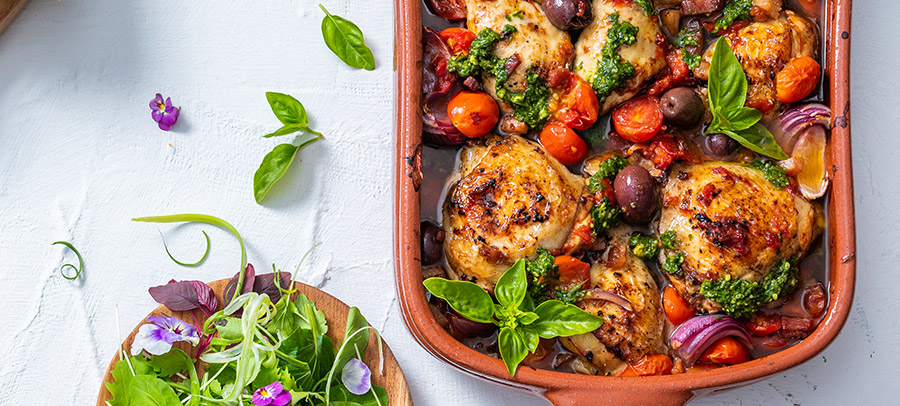 Prep time
20min

Cook time
45min

Serves
4
Get transported straight to Italy with a healthy chicken traybake that takes about an hour to prepare.
Ingredients:
1 Starpack (chicken thighs and drumsticks)
2 tbsp balsamic vinegar
40ml olive oil
4 garlic cloves, crushed
1 red onion, cut into chunks
1 cup chopped, tinned Italian tomatoes
1 cup baby rosa tomatoes, halved
150g pitted kalamata olives
2 tsp honey
100g pancetta
a handful of fresh basil leaves, torn
60ml basil pesto (optional)
salt and pepper
Method:
Heat the oven to 180°C.
Marinate the chicken pieces in the balsamic vinegar, 1 tbsp of olive oil and some of the crushed garlic. Season with salt and pepper.
Place on a large roasting tray and bake for 20 minutes.
Add the onion, chopped tomato, rosa tomatoes, olives and the rest of the garlic to the chicken. Season with more salt and pepper, and drizzle with the honey and the rest of the olive oil.
Bake for another 15 minutes.
Add the pancetta and return the chicken to the oven. Bake until the pancetta is crisp.
Serve with dollops of pesto, fresh basil and a green salad.