Grilled honey chipotle chicken tacos
topped with fresh avocado and coriander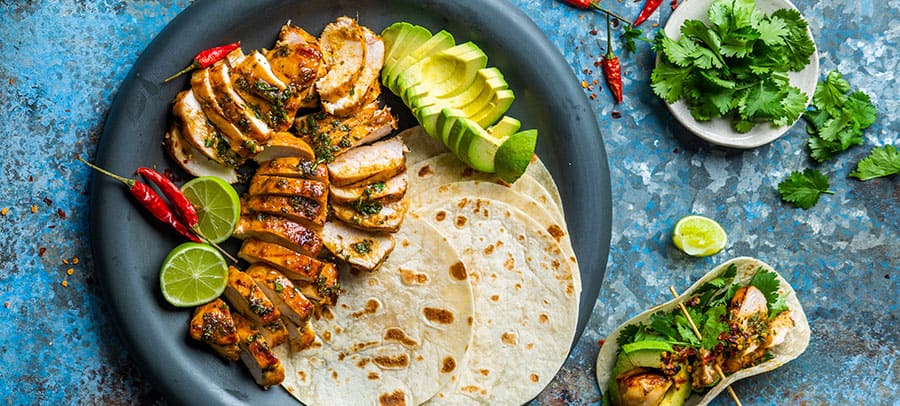 Prep time
75min

Cook time
15min

Serves
3
The spicy marinade makes the chicken breast fillets in these soft-shell tacos sing!
Ingredients:
Marinade
3 tbsp olive oil
1/2 cup lime juice
1 tbsp lime zest
1/4 cup honey
2 tsp chipotle chilli powder
2 tsp garlic powder
1/2 tsp ground cumin
1/4 cup fresh coriander, chopped
1/8 tsp salt
Chicken and tortillas
4 chicken breast fillets
6 small tortilla wraps
2 avocados, sliced
2 cups coriander, to serve
1 lime, to serve
Method:
To make the marinade, mix 2 tablespoons of olive oil, lime juice and zest, honey, chipotle chilli and garlic powders, cumin, coriander and salt until well combined. Reserve 1/3 cup of the marinade for basting.
Marinade the chicken breasts in a closed container in the fridge for 60 minutes.
Add the remaining tablespoon of oil to a hot grill pan (cast-iron pan). Cook the chicken for 1 to 2 minutes or until golden brown on medium-high heat. Baste with the reserved marinade, then turn and cook the other side for 1 to 2 minutes. Baste again, cover and cook on low for 10 minutes. Discard any remaining marinade.
Put the cooked chicken onto a plate and cover loosely with tinfoil to keep warm. When the chicken has rested, slice it up.
Layer the coriander, sliced avocado and sliced chicken breasts onto the tortilla wraps. Top with a squeeze of lime and serve.