Baked leg quarters with creamy lemon sauce
and pea and mint salad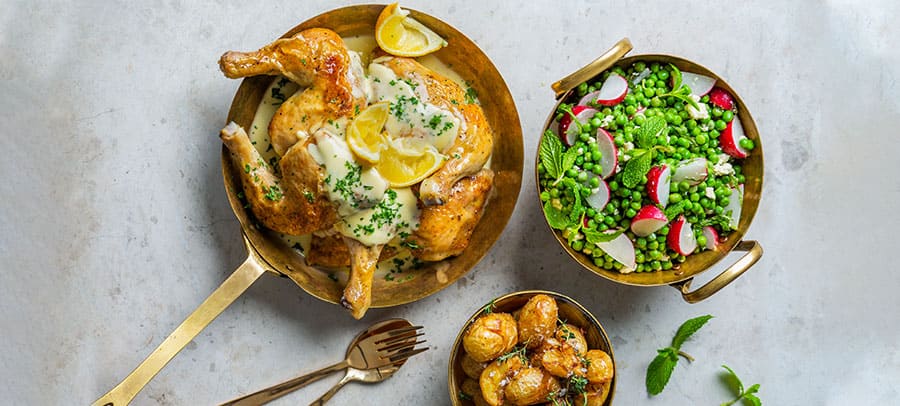 Prep time
10min

Cook time
80min

Serves
6
The rich sauce made with butter, cream and lemon makes for a satisfying meal. This recipe is perfect for a dinner party.
Ingredients:
6 leg quarters
4 tbsp of butter
Salt and pepper
600g baby potatoes
3 sprigs thyme
4 tbsp canola oil
Sauce
1⁄2 cup white wine
1 1/2 cup butter, cut into pieces
1 cup whipping cream
Juice of 1 lemon
Salad
600g peas
20g mint, roughly chopped
150g radishes, cut into quarters
1 block of feta
Dressing
1/2 tsp white sugar
1 tsp white wine vinegar
2 tbsp olive oil
Method:
Preheat the oven to 180°C.
Put the chicken on the bottom of a rimmed baking sheet or baking dish. Melt the butter and brush it over each chicken piece. Season with salt and pepper. Cover the pan with foil and bake for one hour.
Increase the oven temperature to 200°C, remove the foil and bake for an extra 10 to 20 minutes until the skin is crispy. Let the chicken rest for 10 minutes before serving
Parboil the potatoes in boiling water. Crush them lightly with a fork – you want to break their shape but keep them whole. Put the canola oil in a roasting pan and place into the oven (200°C ) until the oil is smoking hot. Remove hot oil tray from the oven and add the potatoes, thyme, salt and pepper, and roast for about 30 minutes, or until crispy.
To make the sauce, heat the wine in a small saucepan. Bring to the boil and reduce over medium-high heat until 2 tablespoons of liquid remain. Reduce the heat to low and whisk in the butter, a few pieces at a time, until the sauce is smooth and the butter is incorporated. Whisk in the cream and lemon juice. Keep the sauce warm in the top of a double boiler set over hot water until you are ready to serve.
To make the salad, boil peas in a pan of salted boiling water until cooked. Drain and set aside to cool. To make the dressing, put the white sugar, white-wine vinegar and olive oil into a jar and shake.
Mix the peas, radishes and mint in a bowl, toss in the dressing and crumble the feta over the top.
Serve the salad with the chicken and potatoes.