SPATCHCOCK ROAST CHICKEN WITH TERIYAKI GLAZE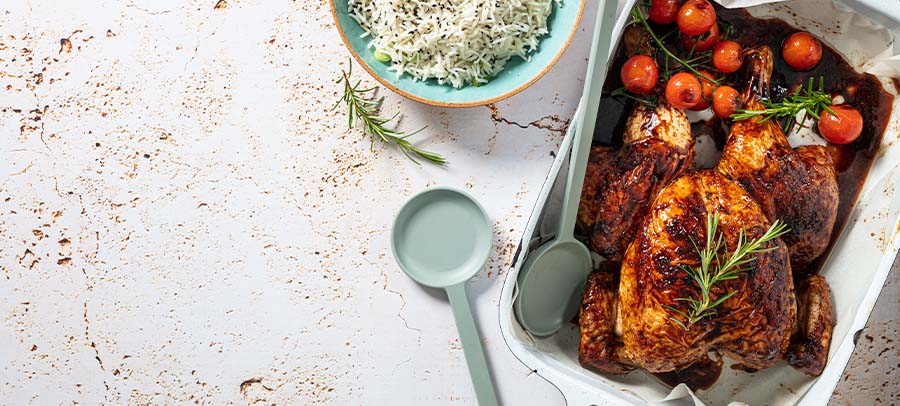 Prep time
15min

Cook time
70min

Serves
4
This easy recipe is big on Japanese-inspired umami flavours!
Ingredients:
1 x whole chicken
60g teriyaki sauce, store-bought or homemade
2 garlic cloves, finely grated
1 thumb ginger, finely grated
juice of 1 orange
juice of 1 lemon
10-15ml hot sauce
15ml honey
1 spring onion, thinly sliced
5g coriander leaves
salt and pepper
Method:
Preheat the oven to 180°
To prepare the chicken, place the chicken on a chopping board, breast down. Using sharp scissors, cut down both sides of the back bone. Discard the bone. Turn the chicken over, and press down to flatten it.
Place the chicken on a baking tray and season generously with salt and pepper.
Roast in the oven for 50 minutes.
Put the teriyaki sauce, garlic, ginger, orange juice, lemon juice, hot sauce, and honey in a pot over medium-high heat. Allow to simmer for about 10 minutes, until thickened.
After the 50 minutes, remove the chicken from the oven. Baste with half the teriyaki glaze.
Return the chicken to the oven for a further 10 minutes. Brush over the remaining glaze and return to the oven for a further 10 minutes, or until cooked through.
Serve the chicken hot, garnished with the spring onion and coriander.