SLOW-COOKED CHICKEN, ONION & CAULIFLOWER TRAY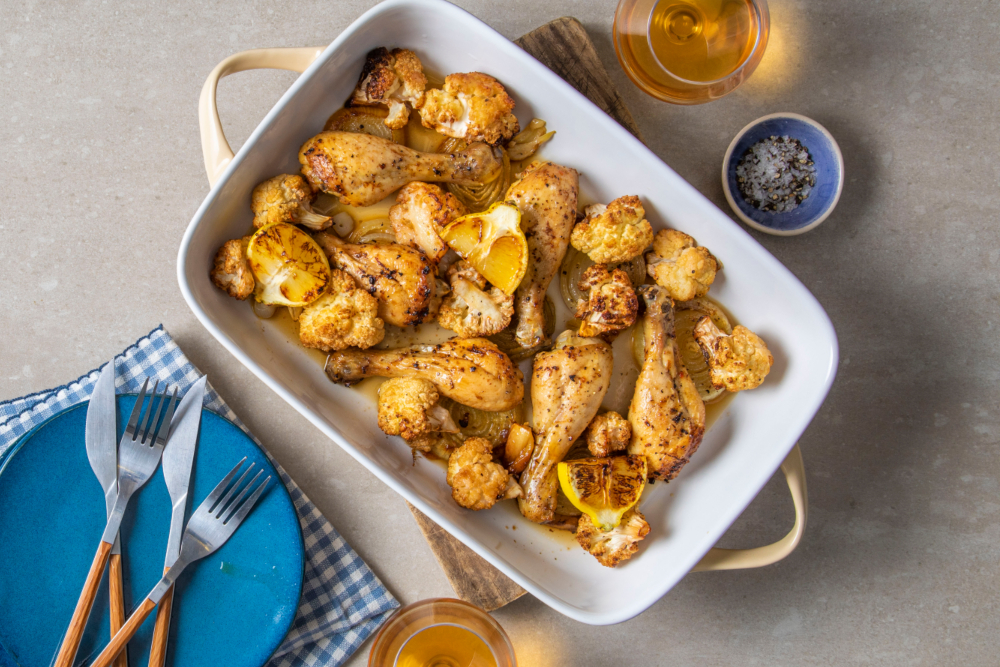 Prep time
15min

Cook time
1h

Serves
4
Efficient, effective and totally moreish – the ideal tray roast dinner!
Ingredients:
1 x County Fair Chicken Drumsticks pack
1 small cauliflower head cut into even-sized florets
Juice and zest of 2 lemons
2 cloves garlic, finely chopped
2 cloves garlic, pressed
2 onions, sliced into 1cm thick rounds
Olive oil
Salt and milled black pepper
Method:
Preheat the oven to 180°C.
Place the chicken drumsticks and cauliflower in a large bowl.
Prepare the sauce – whisk a ¼ cup olive oil, lemon juice and zest, and the finely chopped and pressed garlic cloves together. Season with salt and pepper and stir.
Pour over the chicken and cauliflower and toss well to coat evenly. Set aside.
Layer the onion rounds on the base of an oven tray.
Add the chicken and cauliflower and spread them out evenly.
Roast in the oven for 1 hour until cooked through and golden.
Serve.